Ukrainian refugees in Moldova: "When we escape we don't feel fear, but hate" | International
Tatiana Slobtova is one of those people who holds the bunch of her keys in her fist and doesn't let go wherever she goes. They tinkle and move, while she flails as she speaks. She doesn't let them go. You might think that she is just passing through, although she recounts something as special as the incredible adventure of giving shelter to people fleeing the horror of war. Slobtova, a Moldavian, blonde and with a good frame, recounts standing up walking along one corridor and another, through doors and patios, what she is doing with a handful of volunteers in an old social home in the small town of Anenii Noi , about 36 kilometers south of Chisinau, the capital of Moldova. In the humble rooms of this center of low mansions, 23 Ukrainian citizens are housed. They are better than under the pounding of the bombs, no doubt. Three meals, toilet and bed. But they are also in one of the poorest countries in Europe, so they don't have enough showers, some more fridges, heaters, a proper kitchen, decent doors would be nice. "We are missing all of that," says Ella Slobtova as if she were going through a list of pleas, "although what they all want is to return to their country."
Moldova, on the southwestern border of Ukraine, is a very small country, with just over 2.6 million inhabitants. With an insignificant industry, an agricultural economy, and absolute dependence on energy - from the Russian giant Gazprom, of course - this former Soviet republic is not in the best of situations to absorb the impact of the Russian invasion of the Ukrainian neighbor. Even so, here are the numbers: more than 420,000 people have crossed its border since the start of Moscow's offensive on February 24, most of them arriving from the Black Sea coast - it is estimated that another 20,000 have crossed through through the disputed region of Transnistria. It is the country that receives the most displaced persons in relation to its population; around 100,000 Ukrainians have decided to stay, this means a population growth of 4%. The vast majority of those who remain do so in the homes of relatives, friends, host families... Only 4,000 live in refugee centers like the one run by Slobtova.
It smells through the corridors of the Anenii Noi center of the midday meal. Play pasta. Natalia Sorostienko, 43, opens the door. She is sitting on a sofa, in knit socks, next to her friend Tatiana Stivinoga, who is constantly catching and releasing a very restless puppy. The two are the same age, they have known each other since school, it will be 35 years. Both are from Kherson, on the banks of the Dnipro River, one of the most crushed targets by the Russian Army. The Ukrainian city is remembered as the one of the sailors; so much so that the husbands of these two friends have been sailing the high seas for a long time. They took a month from the beginning of the war to take their children and flee. Sorostienko says that at the beginning, when the bombs fell, the children were told that it was going to be fine. "But everything changed when when they asked us," she continues, "they began to notice that we were not sure of the answer." They left.
You can think that they did it with a plan, maybe travel to Romania, fly to Germany. "Our plan was just to get to the border and get the kids to safety," Stivinoga sums up. An idea that coincides with that of so many refugees and humanitarian workers consulted for this report: the Ukrainians who flee do not want to go very far, they want to return. But not at any price. These two women from Kherson had to cross five Russian military security checkpoints together with several relatives. "We did not feel fear, but hatred," says Sorostienko, with a girl, his niece, in his arms. She continues her story, says that as long as the Russians are still there, they won't come back, and the little girl, who paints a Ukrainian flag on a piece of paper, collapses, shrinks and becomes a pellet. She doesn't want to hear it.
Join EL PAÍS to follow all the news and read without limits.
subscribe
With his hand on the dog's back, Stivinoga picks up the conversation: "The city was blocked, we had no money, no work, no food... The Russian military told us we could go to Crimea [anexionada por Moscú en 2014]but we refused." They respond to the alimón when they are asked what they feel now when they wake up. It seems that they have talked about it many times: "It's like a dream, a bad dream in the 21st century."
It was in the 1990s that Moldova, now independent of the Soviet Union, began a new path with its sights set on Europe, on the West. It has an association agreement with the EU and has improved, but its economy is vulnerable. The pandemic dealt a severe blow to the country and when last year it registered an exceptional rebound, with growth of more than 13%, the Russian threat came to undo all positive forecasts. It is estimated that the Moldovan economy will shrink half a point this year, with public debt galloping above 30%. This is why the EU has injected five million euros more than the eight million already planned in humanitarian aid for the reception of Ukrainian refugees.
The controls of the Russians
Most cross from the Odessa region through the town of Palanca, in southeastern Moldova and about 140 kilometers from Chisinau. It is a tremendously rural region, eternal fields, villages of houses with gabled roofs and bumpy asphalt. The Ukrainians who leave their country here do so in several phases, in order: they get out of their vehicles, wait for a first control under a tent, then walk 50 meters to the register and another 50 meters for the last control by Moldovan border guards. Maybe half an hour crossing, no more. Yulia Fatieva, 38, has just arrived. Also from Kherson, Ella Fatieva says that she was afraid to leave the city, but they had already eaten everything, there was looting by Russian soldiers and they depended on what the farmers harvested. They lived on potatoes and carrots for a month. "The Russians offered us help, but we did not accept it because it was a betrayal."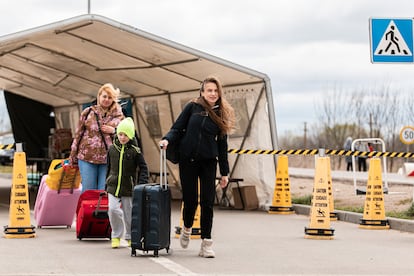 Fatieva is not the first Ukrainian refugee to recount how the Russian military look at everything at security checkpoints. "They look on the skin for tattoos, symbols of anything about Ukraine," she says. She has tattooed skin, it is not difficult to notice it, although she was advancing until she headed towards Odessa and from there to the Moldavian Palanca. Fatieva stops at the second point of the border crossing. She wants to return to her house as soon as she can, but for now she will travel to Israel, where her 18-year-old son is serving in the military.
The number of Ukrainian citizens who cross the border through this pass is around 2,000 a day, much less than after the beginning of the offensive. Despite this, institutions such as the EU humanitarian office (ECHO), which has organized and made possible the trip for the preparation of this report, as well as humanitarian organizations and local authorities, believe that this can change radically; violence has thousands of triggers. According to Rosian Vasiloi, head of the Moldovan border police at the Palanca crossing, they would be prepared to receive an influx of up to 100,000 people at once if things go wrong.
So it was with the family of Aza Naruskaia, 53, a native of the coastal city of Mikolaiv. She waits to cross the border with several relatives, a man among them, something unusual due to the Ukrainian martial law that forces them to stay to resist, and a very old neighbor, 86 years old. Why are they leaving now? "At first it wasn't that scary," Naruskaia replies. She dropped a bomb a kilometer from her home. "It was humiliating", she continues with amazing serenity, "it was difficult to stay at home". Only time will tell if they return or not, she says, but now they don't want to look back, they want to get far away, fly to Ireland.
The machinery of international emergency aid was set in motion on February 24 with unprecedented speed and scale. The UN refugee agency (UNHCR), with the collaboration of ECHO and dozens of humanitarian organizations, have sewn a framework so that all those Ukrainians who cross the border feel safe, with special attention to humble Moldova. Although war sometimes haunts you. One of these points of attention is located in the Chisinau exhibition center, next to the Valea Morilor lake, excavated by the communist youth in the 1950s. Around 250 refugees sleep in the facilities. Olga Yablushevskaia, 27, is one of them.
The young woman allows the canvas that serves as the entrance door to her room to be lifted. She is angry:
"Why have you run away from home?"
"It's obvious why we've run away, isn't it?
And he says "we" because he is traveling with his five-year-old son, Mark. The little one doesn't stop, he smiles, shows the mobile with which he plays, throws himself on his bed and gets up again, to play. He is autistic. The mother finds it difficult to speak, he is not well. The two fled Mikolaiv on April 5. Finally, he explains what made him run away and leave his parents behind. "I felt like a stone in my heart," he narrates between sobs, "every day I woke up and thought I could die." He managed to get to Moldova with the kid and still he kept thinking, according to a story in a low and trembling voice, that Russia could catch up with them. He doesn't know where he will go; he is just there, in Moldova, in the next country.
"Where is the boy's father?"
- In hell.
I mean, he's in the war, he's fighting on the eastern front of Ukraine. It does not allow the place where it is to be published.
Follow all the international information in Facebook Y Twitteror in our weekly newsletter.
Exclusive content for subscribers
read without limits
Author Profile
Allow me to introduce myself. I am Nathan Rivera, a dedicated journalist who has had the privilege of writing for the online newspaper Today90. My journey in the world of journalism has been a testament to the power of dedication, integrity, and passion.

My story began with a relentless thirst for knowledge and an innate curiosity about the events shaping our world. I graduated with honors in Investigative Journalism from a renowned university, laying the foundation for what would become a fulfilling career in the field.

What sets me apart is my unwavering commitment to uncovering the truth. I refuse to settle for superficial answers or preconceived narratives. Instead, I constantly challenge the status quo, delving deep into complex issues to reveal the reality beneath the surface. My dedication to investigative journalism has uncovered numerous scandals and shed light on issues others might prefer to ignore.

I am also a staunch advocate for press freedom. I have tirelessly fought to protect the rights of journalists and have faced significant challenges in my quest to inform the public truthfully and without constraints. My courage in defending these principles serves as an example to all who believe in the power of journalism to change the world.

Throughout my career, I have been honored with numerous awards and recognitions for my outstanding work in journalism. My investigations have changed policies, exposed corruption, and given a voice to those who had none. My commitment to truth and justice makes me a beacon of hope in a world where misinformation often prevails.

At Today90, I continue to be a driving force behind journalistic excellence. My tireless dedication to fair and accurate reporting is an invaluable asset to the editorial team. My biography is a living testament to the importance of journalism in our society and a reminder that a dedicated journalist can make a difference in the world.