Turkey: Islahiye, the city devastated by the earthquake: "We spend our days thankful for being alive" | International
From the sky, with satellite images, the Turkish city of Islahiye, population 60,000, looks like an intermittent jigsaw puzzle of houses and rubble. From the ground, it is more like an obstacle course between destroyed buildings, tents for those affected, people warming themselves in improvised bonfires, debris removal machines and trucks delivering water, food and blankets. If the police also cordoned off the buildings that have lost their façade ―which generates a strange sensation of privacy in the nude― or are threateningly tilted, it would not be possible to advance more than a few meters. "Half of Islahiye has disappeared," summed up with a trembling voice last Tuesday Fatma Sahin, the metropolitan mayor of Gaziantep, one of the provinces hardest hit by the deadliest earthquake in the area in almost a century, with more than 20,000 deaths in Turkey and Syria.
There, 23-year-old Furkan Koyuncu only has three things from before the earthquake: the shirt, pants and underwear he was wearing. "Everything else is from AFAD [la agencia gubernamental de gestión de emergencias]", he assures in a solar while his family makes tea with the fire of lighting some planks.
"The shoes are also yours, aren't they?"
― No, they have also given me. I ran barefoot. The earthquake woke me up. It was night, I was sleeping. I grabbed the family and we jumped from the second floor. It's not very high, so we didn't hurt ourselves. About 20 seconds later, the house fell apart.
Now, he regrets, the worst thing is not the cold that happens at night when sleeping with temperatures below zero, in a tent that his family has set up with fabrics found on the street because, he assures, the 17 members did not fit in the one that have been provided by the authorities. The worst thing, she clarifies, is that they only have a cell phone to find out how the rest of the relatives referred to a camp for those affected are. "All the other mobiles are under the rubble. I thought about going to look for them, but I don't think they will let me or that they work anymore, "she adds. And now? "We don't have money, so we are forced to stay here," he replies resignedly.
Join EL PAÍS to follow all the news and read without limits.
subscribe
Catastrophes like the one last Monday are the ones that give a twist to the concept of priority. In Islahiye, which was already humble, there is no lack of food or drink. Official organizations, NGOs (several of them from Muslim solidarity) and volunteers frequently distribute food such as hot lentil soup, bread, sweets and fruit. Bottles of water and nectars are also easy to come by and diapers and basic medicines are distributed.
Other help arrives suddenly. An NGO in Balochistan begins to hand out unwrapped rag dolls to mothers and children, and five men distribute clothes from a van to whoever raises their hand first, in a kind of free auction. "Thank God, they give us everything. Thanks to the State, thanks to all those who send us help, may God repay them a thousand times over. We have all the needs covered, I'm not lying", says the elderly Güllü, rehoused in a tent.
What is not in that "everything" is everything else: running water, electricity, gas, pharmacies or -of course- a concrete roof. The phone signal comes and goes.
sleeping in cars
"There are aftershocks all the time and that scares us. We sleep in the cars because we don't dare to go home," says Arel Yildirim, 21. The "house" is not such: his was seriously damaged. He is referring to the security booth of his father's business, where they are staying temporarily and some relatives have brought them clothes and food.
To Yildirim, past the shock After having escaped death, the days seem long. "We spent them sitting, thankful to be alive. We try to find food and eat something, help those around us (...) We can't do anything. We think about the dead and how we have survived. We try to calm each other down. And we think about this burden that God has placed on us, "she says while queuing with a friend of the same age, Havanur Hamzaoglu, to recharge the mobile in some collective sockets powered on the street by an electric generator. Although she will soon have a battery again, she does not feel like sailing. "The news is terrible all the time," she explains.
Like Yildirim, only a few in Islahiye risk staying under a roof that could become lethal in an aftershock, explains Gorkem Sengul, a 24-year-old volunteer from the Turkish city of Izmit (the scene of a 1999 earthquake). ) that carries water bottles. Most sleep in tents, in the car or directly in the street, where groups can be seen warming themselves in front of a bonfire or spending idle hours. Two camps have been set up in the area, with 3,500 tents.
Onder Kiziltas, a 24-year-old volunteer, ranks the deficiencies. The first thing, he says, are the toilets and he shows on the mobile one of the floors (common in the country) clogged and overflowing with dirty water. Second, generators, "especially for those who do not have a store and are on the street." He also points to the diesel problem, which prevents some from going with their families to another part of the country. "You have to travel many kilometers to get to a gas station that has one," he explains. In the one that connects Islahiye with the city of Sanliurfa and some cracks have been formed by the earthquake, you can only refuel in some.
A sculpture in the shape of the chilli peppers that make the area famous looks as intact as it is out of place next to dozens of tents and in the midst of the movement of humanitarian trucks and heavy debris removal machinery. In the background, some now useless windmills crown the snowy mountains.
In this area there is a Kurdish population, so they are part of those affected. Reving Sagvan, a doctor deployed by the Ministry of Health of the Iraqi Kurdistan Autonomous Government to care for those affected, points out that, "in addition to the usual problems in these cases, such as hypothermia, respiratory tract infections or dehydration", some patients Chronic patients are not being able to take their medication, which they should not interrupt. They left it at home when they escaped and can no longer get it back.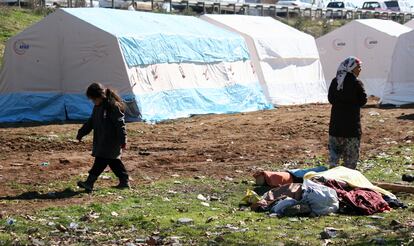 The earthquake has exacerbated the situation faced by Syrian refugees from the civil war. Turkey, the country that hosts the most of them (3.7 million), has gone from treating them as "brothers" and "guests"―as its president, Recep Tayyip Erdogan, described them—to having returned more than 500,000 since 2016 and wanting to repatriate a million with a voluntary plan criticized by human rights NGOs.
The Syrian Nura Taha neither bites her tongue nor does it take long to pay the consequences. She assures that she was only placed in a tent after a night in the open, when the Turks had already received them, and that she was treated with indifference when she asked for it because, although she speaks Turkish, the natives can tell by her clothing where she is from. . "The earthquake has not distinguished between Turks and Arabs, but they always discriminate against us. Every time there are problems, they blame us. The situation was already very difficult and now more, "she protests. Her alternative, she admits, is worse: return to her home province of Idlib, controlled by Hayat Tahrir Al Sham jihadists, and "die because they see me smoking a cigarette."
As she complains, a Turk who understands Arabic intervenes to accuse her of tarnishing the image of a country that she should be "thankful" for giving her food and water just like the surviving Turks. Shortly after, a service worker comes to deliver diapers, clothes and candy.
Follow all the international information on Facebook and Twitteror in our weekly newsletter.
Subscribe to continue reading
Read without limits
Author Profile
Allow me to introduce myself. I am Nathan Rivera, a dedicated journalist who has had the privilege of writing for the online newspaper Today90. My journey in the world of journalism has been a testament to the power of dedication, integrity, and passion.

My story began with a relentless thirst for knowledge and an innate curiosity about the events shaping our world. I graduated with honors in Investigative Journalism from a renowned university, laying the foundation for what would become a fulfilling career in the field.

What sets me apart is my unwavering commitment to uncovering the truth. I refuse to settle for superficial answers or preconceived narratives. Instead, I constantly challenge the status quo, delving deep into complex issues to reveal the reality beneath the surface. My dedication to investigative journalism has uncovered numerous scandals and shed light on issues others might prefer to ignore.

I am also a staunch advocate for press freedom. I have tirelessly fought to protect the rights of journalists and have faced significant challenges in my quest to inform the public truthfully and without constraints. My courage in defending these principles serves as an example to all who believe in the power of journalism to change the world.

Throughout my career, I have been honored with numerous awards and recognitions for my outstanding work in journalism. My investigations have changed policies, exposed corruption, and given a voice to those who had none. My commitment to truth and justice makes me a beacon of hope in a world where misinformation often prevails.

At Today90, I continue to be a driving force behind journalistic excellence. My tireless dedication to fair and accurate reporting is an invaluable asset to the editorial team. My biography is a living testament to the importance of journalism in our society and a reminder that a dedicated journalist can make a difference in the world.