The war between Israel and Hamas radicalizes the Palestinian community in New York | International
More than one resident of Bay Ridge says that he would change the quiet streets of this Brooklyn neighborhood, the epicenter of the Palestinian community in New York, to be in Gaza with his own people. Even many among those with family in the occupied West Bank would not hesitate to join the resistance in the Strip. Because the question about the atrocity of the Hamas attacks in Israel on October 7, which triggered the war, is rhetorically diluted among the rubble of the enclave: no one expressly legitimizes them, but there is no need to translate their answers to find out what they think.
"Imagine that a child of four or five years old, an innocent creature, sees his parents, his brothers, his uncles and cousins ​​die today in Gaza due to an Israeli bombing. All at the same time, like so many entire families dead these days. In 15 or 20 years, that boy grabs a gun and enters a kibbutz and kills a Jewish family... he will still be as innocent as now, but what will he be called? "Terrorist, right?", says Ali, owner of a coffee and nuts shop, to start the conversation. Born in the United States, but with family in Ramallah (West Bank), he states: "I wish I were in Gaza now, because naming Gaza is a source of pride."
The mosques of Bay Ridge have registered unusual activity since the war began, and the calls of the muezzin, as well as the sermons of the imam, can be heard live in many businesses in the neighborhood, those that do not hang the sign of closed for prayer in English and Arabic. Despite the massive influx, and the fact that hate attacks have skyrocketed 214% since October 7—mostly against Jews, according to the New York Police Department—there is no reinforcement of the security around the mosques, two in a stretch of just five blocks. Only one patrol car was stationed in front of the major the first two days.
"Neither Arab nor American, just Palestinian"
In the numerous street groups, videos of bombings in the Strip are passed from hand to hand, the mobile phone turned into a locket, while the women passing by, most with their heads covered, let tears escape. Ali, who punctuates his speech with religious mentions, has already made two decisions: "Not to vote for the Democrats again" because of Joe Biden's support for Israel, "and not to speak Arabic again, even if it is the language of the Koran, for the backstab that neighboring countries have dealt us. "I no longer feel Arab, nor American, I am just Palestinian."
Join EL PAÍS to follow all the news and read without limits.
Subscribe
This is said by a man in his late forties, born and raised in New York, with an American wife and children. "This is not a war of religion; In fact, we greatly appreciate the support of some Jews who are demonstrating for the ceasefire and for the civilians of Gaza, but religion has nothing to do with it: [Israel] It is also killing Christians," he adds, referring to the bombing of the 12th-century Greek Orthodox church of Saint Porphyry in Gaza, which left a dozen dead. He takes out his cell phone and shows the photos of the ruined church.
In the back room, Ali improvises a conversation with a client and with his friend and partner Zohair, a Palestinian born in Kuwait to refugee parents and who in his youth lived for seven years in the West Bank, during which he visited Israeli prisons four times, "for wanting to live freely, for opposing the occupation." An American citizen, his first language remains Arabic and, although less religious than Ali, he too entrusts himself to Allah in the hope of a peaceful future. "The present is a fatal wait," says Zohair, while showing a video that he has just received from the Yabalia refugee camp: a group of elderly people sharing a tray of mezze in a corner, while columns of smoke rise in the background. "They just expect to die, at any moment, and they do it without pain or fear, with pride."
The questions that the West asks regarding the war—will the conflict escalate? Is the two-state solution still viable?—make friends grimace with skepticism. "What if we fear that the war will spread to the West Bank? Even more?" Zoheir asks rhetorically. "Until now Gaza was bombed every few years [en alusión a las guerras de 2008-2009, 2012, 2014 y 2021]but in the West Bank war is a daily, everyday occurrence. A trickle of deaths, house demolitions [de los palestinos detenidos]arrests daily. A silent war, without headlines like this, but let no one explain to us what war is, because we know it."
"What do they expect us to do? "Should we fold our arms and wait for death?"
About 700,000 Muslims live in New York, compared to a population of 1.1 million Jews, the largest outside of Israel. There are around 9,000 Palestinians, although the number could be significantly higher because they have all arrived in the United States with passports from the country where they lived as refugees, not counting the new generations, born and raised in the Big Apple, but with a family bond with Palestine that the war has helped to strengthen.
Although this week the second Muslim councilor of the City Council was elected, his importance from an electoral point of view is limited. Not so in swing states like Michigan, where the vote of the Arab-Muslim community was decisive for Biden's victory in 2020.
More than 200,000 registered Muslim voters live in Michigan, with 146,000 of them voting in 2020, according to Emgage, a political lobbying group for American Muslims. The Democrat won by 155,000 votes over Donald Trump, but today he is tied in the polls, even trailing the Republican. Although Trump is even less convincing—no Muslim in the United States forgets the immigration ban imposed in the first stages of his presidency on a dozen Arab nations—the collective support for Biden suffers not only because of the White House's determined commitment to the war, also because of the message he addressed to the nation on the third day of the offensive against Gaza, considered in Israel to be more Zionist than that of many other Zionists; for decisions such as vetoing a resolution in the UN Security Council to create "humanitarian pauses", or for repeatedly discrediting the death tolls given by the authorities of the Strip.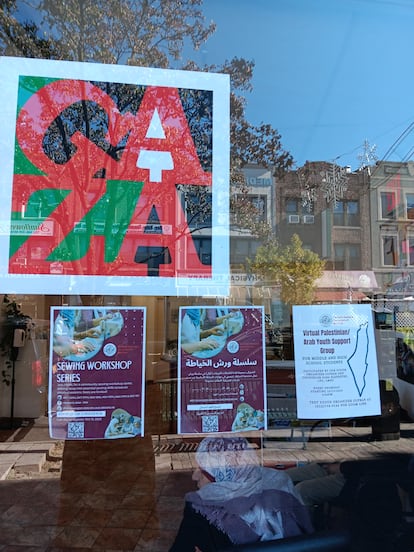 Bay Ridge residents, merchants and community leaders say their anguish is only increasing, as reports of both anti-Palestinian and anti-Semitic attacks increase. Mahmud Kassem, 36, with two aunts in Gaza whose fate he does not know, has seen how his Al Aqsa restaurant loses customers due to the war. The popular stall falafel and shawarmasformerly a neighborhood gathering place, began to receive devastating criticism on the internet, in a movement that he considers orchestrated. "Fortunately, I still have my regular clientele, among whom there are some Jews, but I don't sell like before," explains Kassem. Her mother, who was visiting her sisters in Gaza City, managed to flee the Strip on October 7, taking refuge in a relative's house in East Jerusalem.
The store also sells protest t-shirts and kufiyas, and does not fear reprisals or attacks for its militancy, evident in the number of flags that decorate it. But not only the popular establishments show his adherence to the cause: very close by, on the main avenue of the neighborhood, a luxurious law firm has wrapped a golden representation of Justice in the Palestinian flag and a kufiya. "They are Nazis, they want to exterminate us, they are not normal people," says Kassem of the Israelis. "The way they behave towards us has never been humane," he reiterates, pointing out that the Islamophobia that provoked the 9/11 attacks has now been renewed, more rampant, after the Hamas attacks.
"Palestinians are not terrorists; We want, like all human beings, the best for our loved ones, to live in peace and prosper if possible, but; We want, like all human beings, the best for our loved ones, to live in peace and prosper if we can, but there is no one in Gaza who can do that: everyone has lost someone, myself several of my cousins ​​in the war of 2014, now entire families... What do they expect us to do? "Cross our arms and wait for death?" Kassem concludes between commands. With a bitter warning: "If Gaza falls, Palestine is over."
Follow all the international information on Facebook and xor in our weekly newsletter.
Subscribe to continue reading
Read without limits
_
Author Profile
Allow me to introduce myself. I am Nathan Rivera, a dedicated journalist who has had the privilege of writing for the online newspaper Today90. My journey in the world of journalism has been a testament to the power of dedication, integrity, and passion.

My story began with a relentless thirst for knowledge and an innate curiosity about the events shaping our world. I graduated with honors in Investigative Journalism from a renowned university, laying the foundation for what would become a fulfilling career in the field.

What sets me apart is my unwavering commitment to uncovering the truth. I refuse to settle for superficial answers or preconceived narratives. Instead, I constantly challenge the status quo, delving deep into complex issues to reveal the reality beneath the surface. My dedication to investigative journalism has uncovered numerous scandals and shed light on issues others might prefer to ignore.

I am also a staunch advocate for press freedom. I have tirelessly fought to protect the rights of journalists and have faced significant challenges in my quest to inform the public truthfully and without constraints. My courage in defending these principles serves as an example to all who believe in the power of journalism to change the world.

Throughout my career, I have been honored with numerous awards and recognitions for my outstanding work in journalism. My investigations have changed policies, exposed corruption, and given a voice to those who had none. My commitment to truth and justice makes me a beacon of hope in a world where misinformation often prevails.

At Today90, I continue to be a driving force behind journalistic excellence. My tireless dedication to fair and accurate reporting is an invaluable asset to the editorial team. My biography is a living testament to the importance of journalism in our society and a reminder that a dedicated journalist can make a difference in the world.