The search for my mother through my lens | International
A town south of Huila with a grayish atmosphere, a straight-line highway, the fragments of a macabre story and the disappearance of my mother is the only thing that unites me with Suaza-Huila, this town that for many years was a necessary step between the place where I grew up, in Caquetá, and the center of the country.
I passed by there many times by bus and instinct made me close my eyes and avoid a world of questions and half-answers, because talking about the war in the midst of the war was a topic that my grandmother María knew how to bury, perhaps by strategy , although in reality I always knew it was out of fear, the one that began at the time of "violence" and in 60 years has left approximately 20 civilians in my family murdered for living in rural areas and in injustice society of a country that has been built at the point of killing those who think differently.
After two years of investigation, on March 26, 2022, the Missing Persons Search Unit summoned me to that town in the eastern Colombian mountain range to begin the exhumation of a mass grave that, paradoxically, was the garbage dump of the main cemetery of the population. Twenty-nine years ago they had dumped the bodies of some "alleged guerrillas" there, including my mother's.
Luz Mercy was 22 years old when the Military Forces executed the "Massacre del Vergel" which resulted in the death of 7 people: union leaders of the community action board and whose only sin was belonging to the Patriotic Union, because to be a target legitimate in Colombia you just have to be from the left.
"There is a law of memory that makes things from childhood remain fixed forever", said Gabriel García Márquez and mine was marked by many gaps, nightmares and absence. This led me to go to the UBPD to tell my case and thus begin the journey of looking for my mother's body to put together the puzzle of my life. It is a painful path that I am not walking alone. My family and my brother, from a distance, know that I am here for them. My friends, Federico, Fabio, Andrés and my cameras accompany me.
Join EL PAÍS to follow all the news and read without limits.
subscribe
That Saturday, March 26, upon entering the cemetery, sadness did its thing and the cameras were not the shield they have always been against injustice. I was out of breath, I walked away after the first few shovels, I cried, walked towards a ceiba tree, smoked a cigar and gathered strength to overcome my pain and document the exhumation.
I already knew that ceiba tree on an exploratory trip I had made: the place moved something in me and made me feel that this was perhaps the place we were looking for. At night we light up the tree with many candles as a symbolic act, because despite the darkness there is always a light of hope that makes those of us who experience violence think that it is not fair that the war continues and if this country has to To change we must start with ourselves: we have to forgive, be resilient.
The lights on the tree are the people who are looking for the disappeared and have not yet found their loved ones; Twenty-nine years are twenty-nine candles in the grave and the document behind me is what remains of an endless judicial process to prove that this young woman was innocent, and that in Colombia they exchange a dead person for papers.
Photography without a doubt changed my life and is the tool I decided to use to travel, mourn and, symbolically, close a cycle of pain.
That day, when that gray town was covered in rain, the task of digging, moving rubble, garbage and earth became so complex for forensics that I took a shovel to help, because many hands were not enough. There I unloaded my rage, my hands blistered and I didn't care. Moving mud and digging a hole in the ground is the closest I've come to ending the void left by my mother's absence. What remains of her body must be dignified as the woman and peasant mother of a family that she was.
Digging 7 meters long and almost 2 meters deep was what was needed to reveal six skulls, several intact bone remains and hundreds of bone fragments. A mission that was scheduled for two days ended up being extended to five, days in which I went down to the pit with a spatula and gouge to continue helping this time, with the calm of a sculptor.
The pain was present, the tired faces could not with the 16 people who were there to dig until the earth spoke and showed a color and density that indicated that from then on it had not been intervened. I witnessed the tumult of bones that were being discovered, I was a few centimeters from what was possibly my mother's body and now I have to wait for the Institute of Legal Medicine and Forensic Sciences to assemble these bone remains and determine with DNA tests if my search is over or simply this is the living portrait of what it means to search for a disappeared person in a country where graves are more common than education, health, and a dignified life.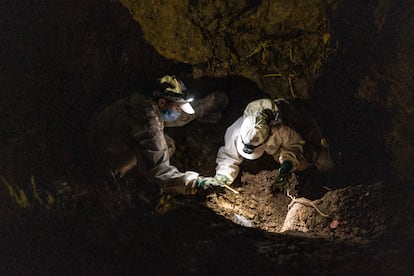 On the last afternoon, while this hole was closing, I stopped throwing earth, I sat down in front of the pit and began to write this text, thinking about how essential it is to search, to understand that finding is important, but not the end . For this reason, I invite those who have loved ones who have disappeared and read me to begin this path, gather strength, rebuild family ties, accompany each other and mourn to which we never had the right.
This trip is not the only one I have made. 5 years ago I began to take the first photos of what will soon be a photobook that collects the experience of the armed conflict seen from my family, their dreams, their stories. Your sorrows and mine are the raw material to leave a document that narrates our truth, that of thousands of families who suffered war, displacement, death, torture, discrimination in all its forms, often by the State. , of those who decide to believe official statements and never take into account the voice of those who have been silenced by violence.
Follow all the international information in Facebook Y Twitteror in our weekly newsletter.
Exclusive content for subscribers
read without limits