The refrigerated bunker that saves lives of cancer patients in Ukraine | International
Dreary, filthy and dilapidated. Numerous buildings in Soviet Ukraine keep shelters in their basements that at that time were mandatory as a shield against possible attacks. But in one of those places, under a supermarket in the city of Kharkiv, a pristine white space of 60 square meters has now been set up. A haven of luminous cleanliness that houses a revolutionary refrigerated bunker that is unique in the country. Inside, some six million euros worth of medicines are stored under a strict cold chain. Almost all of them are intended for cancer patients who must continue to be cared for in the midst of the rigor of war. The promoter of the initiative is Rostislav Filippenko, a 32-year-old Ukrainian mathematician living in Spain who, by accident, was caught by the war in his hometown preparing his master's thesis at the Autonomous University of Madrid in the heat of the fireplace. from their grandparents.
Absorbed by the tsunami of solidarity that flooded Ukraine from the first days of the great Russian invasion that began on February 24, 2022, Filippenko went to a hospital to ask what they needed. From there, spurred on by many of his friends and contacts in Spain, he founded the NGO Mission Kharkiv just four days later with the aim of facilitating the distribution of medicines. Behind the dead, the wounded, those who have lost their homes, those who are hungry and thirsty or the displaced, there is a series of forgotten victims. They are those who, also because of the armed conflict, have seen the medical treatment on which their lives depend interrupted. "Some don't even have the documentation because a missile has destroyed their house," laments Filippenko.
But chemotherapy cannot be offered by the villages. In the city of Kharkov, the second largest in the country (1.4 million at the start of the invasion), they treat 30 cancer patients a day from Monday to Friday. Each one comes to the appointment with their thermos bag so that the cold chain of medicines is not broken. The distribution takes place at the National Institute of Medical Radiography and, from there, the patients travel to other hospitals to receive treatment.
"All the resources of our country are redirected to the army because we want to survive," admits Dr. Arman Kacharian, head of cancer control at the Ukrainian Ministry of Health, in statements published on Friday by HealthDay during a visit to the United States.
Since February of last year, Mission Kharkiv has already delivered more than 180 tons of medicines, most of them from Spain, and directly attended more than 60,000 patients. In their database they already have more than 1,200 cancer patients. "This little box here is equivalent to one person's salary," she says while holding a box of Rituximab, a medicine for cancer patients, in one of the independent refrigerated chambers at between two and eight degrees.
Join EL PAÍS to follow all the news and read without limits.
subscribe
Patients on the front line
Some of the beneficiaries remain in locations far from the city of Kharkov and, in some cases, close to the front line. In total, Filippenko calculates, there are about 70 scattered throughout these rural areas. "This is the most difficult for us, because we are an NGO that goes directly to the patient. The most difficult thing is to find someone with medical knowledge in the town." The established protocol, he details, obliges them to prepare individualized packages, with the name of the patient to whom the medication must be delivered by hand. Coordinating in a war zone this process is not easy. "In the case of oncology, we require eight documents, seven from the patient and one from the doctor," he explains.
His soul as a mathematician - until now he had not had anything to do with medicine or pharmacy - led him to collect data on cancer patients in the Kharkov region, one of those that was largely invaded from the beginning by the army Russian and still today one of the scenes of the battle front. He assures that they have better information than the Government itself, but that the objective of his organization is to collaborate with the authorities and never replace them "to save as many lives as possible."
One of the objectives, he comments, is to strengthen this collaboration and put down roots beyond Kharkiv. Overcome the impulse of being born in the midst of the bombing of this city and develop long-term plans. In this sense, Filippenko does not hide the fact that he does not have in mind right now to finish that master's thesis or to dedicate himself to his vocation, mathematics. The NGO is consolidating with a team of a dozen people, some of them working from abroad.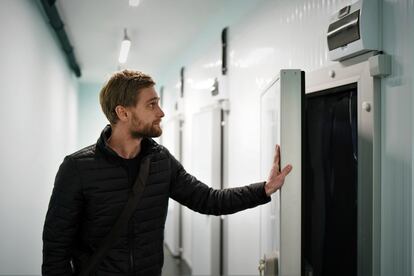 "We collaborate with other NGOs such as Doctors Without Borders, Doctors of the World and others from the United States. Let's see if we can replicate it in other countries when this war is over, "he comments without ceasing to think big. "Although it is necessary to replicate it first in other Ukrainian cities and for this we need funding." Given the arrival of patients from other cities in the country, Mission Kharkiv employees have recently driven an ambulance loaded with oncological drugs to Lviv, some 1,100 kilometers from Kharkov. "The ideal would be to have another bunker there. With 30,000 dollars we can do it in any city, "he adds, citing the growing needs in the capital, kyiv, and in other places such as the aforementioned Lviv, Odesa or Zaporizhia.
Although he does not stop repeating that what they need most are oncological drugs because in that area "there were problems before the war and there will continue to be after", new needs that they have to attend to do not stop haunting his head. This is how they have developed a program for the distribution of specific first aid kits for haemorrhages for employees in critical infrastructures such as power or thermal power plants, a frequent target of bombardments by the Russians. "Surprisingly, they are also needed for emergency services. We are already covering the three most important plants in Kharkov and we have demand from kyiv and Zaporizhia. They have their first-aid kits, but they are not suitable for wartime," Rostislav Filippenko points out as he closes the door of the refrigerated bunker.
In stark contrast to the facility he has just left behind, his shadow advances through the corridors of the old basement where the remodeling has not reached and his voice is amplified in the narrow depths. Most of these shelters now have enormous rusty iron gates that do not insulate in the least in the event of a nuclear emergency. Despite everything, many of them are still used to protect the population from bombing.
The founder of Mission Kharkiv prefers not to refer to the high rates of corruption that are shaking Ukraine and that are pointed out as one of the ballasts to meet the objectives of its integration into the European institutions. But, at the same time, he highlights that transparency and good reputation are two essential pillars on which the NGO is growing. "Transparency is one of the most important aspects in the humanitarian world," he underlines. In this sense, they have established a system in which donors can access information at all times, except for the personal data of each patient, for which special permissions are required. "We are a very small organization, but they trust us because we are raising the standards of other Ukrainian NGOs", he proudly highlights.
Follow all the international information on Facebook and Twitteror in our weekly newsletter.
Subscribe to continue reading
Read without limits
Author Profile
Allow me to introduce myself. I am Nathan Rivera, a dedicated journalist who has had the privilege of writing for the online newspaper Today90. My journey in the world of journalism has been a testament to the power of dedication, integrity, and passion.

My story began with a relentless thirst for knowledge and an innate curiosity about the events shaping our world. I graduated with honors in Investigative Journalism from a renowned university, laying the foundation for what would become a fulfilling career in the field.

What sets me apart is my unwavering commitment to uncovering the truth. I refuse to settle for superficial answers or preconceived narratives. Instead, I constantly challenge the status quo, delving deep into complex issues to reveal the reality beneath the surface. My dedication to investigative journalism has uncovered numerous scandals and shed light on issues others might prefer to ignore.

I am also a staunch advocate for press freedom. I have tirelessly fought to protect the rights of journalists and have faced significant challenges in my quest to inform the public truthfully and without constraints. My courage in defending these principles serves as an example to all who believe in the power of journalism to change the world.

Throughout my career, I have been honored with numerous awards and recognitions for my outstanding work in journalism. My investigations have changed policies, exposed corruption, and given a voice to those who had none. My commitment to truth and justice makes me a beacon of hope in a world where misinformation often prevails.

At Today90, I continue to be a driving force behind journalistic excellence. My tireless dedication to fair and accurate reporting is an invaluable asset to the editorial team. My biography is a living testament to the importance of journalism in our society and a reminder that a dedicated journalist can make a difference in the world.