The foreign workers in Israel, the most unprotected before the Palestinian rockets | International
Any Israeli residing in the vicinity of Gaza has several things clear after two decades of rockets fired from the Strip every time tension in the area escalates. The first is the actions (a powerful raid in the West Bank, a selective assassination, an incident in the Jerusalem Mosques...) that usually precede a barrage of projectiles. Another is the maximum number of seconds (15) to reach a shelter when the sirens warn of a rocket. Finally, the importance of following the instructions of the Army Rearguard Command on when to stay near protected places and its alerts through a mobile phone application.
The Chinese construction worker Wang Jian did not know any of these things on the 2nd, when he worked on the outskirts of the Israeli city of Sderot, one kilometer from the Strip. Israel and Islamic Jihad clashed over the death of Jader Adnan (a well-known Palestinian prisoner who spent 86 days on hunger strike to protest his imprisonment) and one of 104 Palestinian rockets landed next to him. "I heard it and ran, but I didn't have time. No more than three seconds should have passed, "he says between a grimace of pain, translated by his relative Ye and his friend Song, who accompany him in the room at the Barzilai hospital in the city of Ashkelon. According to Matanel Iluz, a paramedic who treated him, "he was on the ground, semi-conscious and with shrapnel wounds," he was quoted as saying in a statement from the emergency services. Following the incident, the Chinese Embassy in Tel Aviv called on its citizens to remain vigilant and avoid "high-risk areas."
Wang, 31, arrived in Israel two years ago with a construction company from his country and now he writhes in pain from the visible shrapnel wounds with stitches left on his legs by a totally unrelated conflict. "Something like this had never happened," Song says next to him. "We are not afraid of working so close to Gaza, but it is true that if the rocket had fallen one meter closer to him, he would not be in the hospital right now," he sums up.
Wang does not speak Hebrew, English, Arabic or Russian, the languages ​​in which the apps of the Army Rearguard Command alerting of the rockets. Nor would it change much if it did, because it is impossible to download it to foreign phones.
Added to this is that the Iron Dome anti-missile system does not automatically intercept all projectiles. Only the ones you identify as being directed against populated areas. Wang worked in a neighborhood where little life is seen and which alternates tall buildings inhabited with others under construction. That same day, some Israeli military commentators suggested that the system ignored the rocket because the area was at the expanding end of the town. Consulted in this regard, the Israeli Army refused to reveal whether this was the case.
The shield criterion also leaves some agricultural areas unprotected, in which mainly Thais and Palestinians work. Added to this are the inevitable mistakes: on that day of confrontation, the Iron Dome was 90% effective, according to military spokesman Daniel Hagari.
Join EL PAÍS to follow all the news and read without limits.
subscribe
A total of 42 foreign workers have died in Israel as a result of the conflict. Five of them, Thai farmers, by rockets, since the launch of the first one in 2001. Almost none had a shelter nearby.
Orit Ronen, agriculture coordinator at Kav LaOved, an NGO that defends the rights of foreign workers in the country, explains by phone that they "are disproportionately injured [por los proyectiles] because they work outdoors and, furthermore, rarely does anyone explain what to do in those cases".
According to data published this month by the Israeli Population and Migration Authority, the largest foreign worker communities are Thai, with 29,000 people, Filipino, with 28,300, and Chinese, with 12,000. The latter are almost all women and are dedicated to caring for dependent elderly people, so they are less exposed. Thais and Chinese, always men, work in agriculture —the former— and construction —the latter—, he specifies.
"It depends on the employer that they receive instructions. And even those who try, sometimes can't. Thais rarely speak English or Hebrew," Ronen notes. Israel ―concerned with maintaining the Jewish demographic majority― has a restrictive immigration policy and only allows them to stay for five years in which it is difficult for them to learn the language or establish ties with locals. Added to this are hierarchical relationships. "My employer never tells me to stop working. Only if we are in the field and a siren sounds, we lie down on the ground", a Thai farmer recently assured the newspaper under anonymity Haaretz. "Whatever the situation, we are going to work."
Alert
Ronen points out another element: "We Israelis have a history, we know what to do in these cases. I find out from Tel Aviv if I have to be alert. They don't always understand how dangerous the situation is, nor can they read Israeli media to find out what's going on." The authorities have translated the safety instructions into several languages, but they are not trying too hard to get the message across, he adds.
In the latest escalation of violence -concluded on May 13-, six foreign workers were injured. And, in one of the many paradoxes of the Middle East conflict, one of the two dead was a worker from where the rocket came from: Gaza. The projectile killed Abdala Hasanin Abu Jiba on the 13th, at the age of 35, and injured a brother, four years older (still hospitalized) and a third Palestinian, this one with Israeli citizenship. Israel has announced that it will consider him a victim of terrorism.
The Iron Dome causes an explosion by intercepting rockets. Hearing the shock caused by that salvo, the three ran to the work shed where they were staying in Shokeda, a cooperative farm near Gaza, but it was too late. Shokeda was one of 271 towns where, lacking nearby shelter, they were prohibited from being.
Around 18,000 Gazans have permission to enter the country to work. Most of them are allowed to spend the night there and usually do so on weekdays. They cross back over the weekend to spend with their families. The fighting caught Abdullah in Israel, which closed the only border crossing, Erez. "We were asking each other on the phone how we were doing. They were more worried about those of us in Gaza than about them," recalled his uncle Alaa Hamed on the 15th in the funeral tent in Gaza City, where dozens of members of this Bedouin family clan received coffee, dates and maqlube (a typical Middle Eastern rice dish) to those who came to offer their condolences.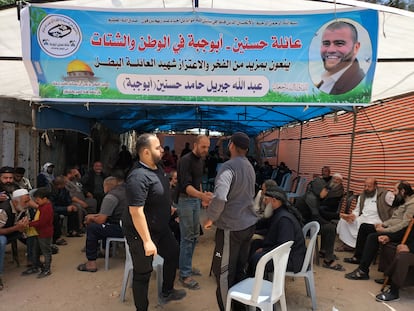 With six children, Abdala had been working in Israel for a year after a decade of unemployment in Gaza, in which he dedicated himself to collecting twisted iron from ruined buildings to straighten them and sell them as construction material, says his brother Abed. He earned 30 shekels (7.6 euros or 8.3 dollars) a day. In Shokeda, where he had been employed for 20 days, he earned 2,000 shekels a week working iron to set up chicken farms.
Follow all the international information on Facebook and Twitteror in our weekly newsletter.
75% discount
Subscribe to continue reading
Read without limits
Author Profile
Allow me to introduce myself. I am Nathan Rivera, a dedicated journalist who has had the privilege of writing for the online newspaper Today90. My journey in the world of journalism has been a testament to the power of dedication, integrity, and passion.

My story began with a relentless thirst for knowledge and an innate curiosity about the events shaping our world. I graduated with honors in Investigative Journalism from a renowned university, laying the foundation for what would become a fulfilling career in the field.

What sets me apart is my unwavering commitment to uncovering the truth. I refuse to settle for superficial answers or preconceived narratives. Instead, I constantly challenge the status quo, delving deep into complex issues to reveal the reality beneath the surface. My dedication to investigative journalism has uncovered numerous scandals and shed light on issues others might prefer to ignore.

I am also a staunch advocate for press freedom. I have tirelessly fought to protect the rights of journalists and have faced significant challenges in my quest to inform the public truthfully and without constraints. My courage in defending these principles serves as an example to all who believe in the power of journalism to change the world.

Throughout my career, I have been honored with numerous awards and recognitions for my outstanding work in journalism. My investigations have changed policies, exposed corruption, and given a voice to those who had none. My commitment to truth and justice makes me a beacon of hope in a world where misinformation often prevails.

At Today90, I continue to be a driving force behind journalistic excellence. My tireless dedication to fair and accurate reporting is an invaluable asset to the editorial team. My biography is a living testament to the importance of journalism in our society and a reminder that a dedicated journalist can make a difference in the world.