Stories from the worst dungeon in Nicaragua: "They shackled us to sleep or when they took us to the 'tunnel.' The blows were waiting for you there" | International
"24 hours ago I was in Hell. And look at me now: in a hotel in Washington," says Kevin Solís at sunset, one of the 222 political prisoners released early this Thursday and deported to the United States by the dictatorship of Daniel Ortega and Rosario Murillo.
El Infiernillo carries the fame of being the worst dungeon in Managua. There, in that maximum security prison, Solís, a law student, spent three years in solitary confinement, in a "cabin without sunlight, with the door always sealed." "Once a day, the jailers would open the bolts and throw us food," he recalls in a conversation with EL PAÍS in front of the no-frills hotel near Dulles International Airport that the US State Department has turned into a place of urgent reception for political prisoners.
"They shackled us to sleep. Sleeping in shackles is complicated", the 24-year-old boy continues with a determined voice ("although it seems that I am 30 because of what I have suffered", he adds). "They also shackled us when the director came personally [de la prisión] to look for us She took us to a place they call 'the tunnel'. A corridor of about 30 meters without windows. There you knew that the blows were waiting for you. Where no one listens or looks. Since you're tied up, they hit you in the stomach, never on the face, so that the families don't notice it," recalls Solís. He was entitled to one call a month. Worst of all, he says, was "the isolation" and, "more than the physical injuries, the psychological ones."
On Wednesday night they took him out without further explanation along with five other prisoners from Infiernillo. They put them on some buses. The student explains that many believed they were being taken to another prison.
That was also thought by the politician and businessman Juan Sebastián Chamorro, according to what he told at the gates of the reception hotel. "Those who know Managua know that the Modelo prison is very close to the airport. So we thought we were going there, but at that moment the three buses that transported those of us who came from El Chipote [prisión en la que Chamorro cumplía condena]They turned to the right, into the Air Force, and there we realized that we were flying out of the country. We didn't know where until later obviously we were informed."
Join EL PAÍS to follow all the news and read without limits.
subscribe
The 222, says Félix Maradiaga, one of the deportees with the highest political profile, whose ordeal began when he decided to stand in the presidential elections against Ortega, signed "a document in which in a single line" they agreed to leave the country. In that paper there was no word of what would come next: the decision of the National Assembly, meeting urgently, to reform article 21 of the Political Constitution, which regulates Nicaraguan nationality. From now on, according to that text, they are stateless, considering them "traitors to the homeland."
Like Solís, Maradiaga found out about this dispossession upon arriving at the hotel. "I don't care what the Assembly or the Government says. No one will take away from me being Nicaraguan," says Solís, defiant, who now fears for "those who stayed there, like Dr. [abogado] Urbina Lara or [el militar retirado] Jaime Navarrete. "The worst thing is that they are going to be beaten because no one will now be aware of what is going to happen to them," he concludes.
Among those who were left behind, there is also Bishop Rolando Álvarez, who did not want to board the plane of exile. As a consequence of this refusal, the priest who was most critical of the Ortega regime was transferred from the house where he was serving house arrest to the La Modelo prison.
Maradiaga belongs to the group of exiles who were waiting for a family in the United States. His wife, Berta Valle, and their nine-year-old daughter, Alejandra, got on another plane in the morning, coming from Florida. The family regrouped in front of the hotel, after more than three years without seeing each other, and the little girl, who was six years old the last time she saw him, asked her father "never again" to be separated from her. "It has been a day of many emotions. On the plane we sang the Nicaraguan anthem," Maradiaga explained. "It is a bittersweet situation, because leaving the nation that we love with all our souls in these conditions is like when a son is torn from his mother's womb. The feeling and happiness of being able to hug my wife and daughter is mixed with the harsh news that I will probably be out of Nicaragua for a while."
Solís, like his "friend" Denis Antonio García Jirón, who came to hug him, belongs to the group of those who have no one to wait for him in the United States. Ligia Gómez, former political secretary of the FSLN until that September 12, 2018 when she had to go into exile from Nicaragua, came to the aid of those single men in the afternoon. She went to Washington, where she has not given up raising her voice against Ortega, before the United States Congress or the European Parliament. Gomez's phone wouldn't stop ringing. Some of those calls came from Nicaragua, where relatives of those deported spent the day searching for answers.
The State Department guarantees both shelter in the hotel until Sunday. A senior US official explains that "for two years they will be in a special regime." "It is still too early to give details about how their new situation will materialize, but the Biden Administration is determined to help them," adds the official, who stresses that Nicaragua's decision was "unilateral." The Secretary of State, Antony Blinken, considered in a statement that the gesture, "the product of diplomacy", "opens the possibility of continuing the dialogue between the United States and Nicaragua."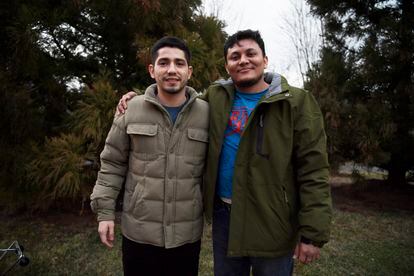 The plane landed at Dulles, the airport that serves the federal capital, after 11:30 a.m. local time (5:30 p.m. in mainland Spain). In the international arrivals terminal, dozens of Nicaraguans were waiting for them in vain. They never left through the gate where they stood guard. After several hours completing the immigration procedures, they left in groups towards the hotel, where State Department workers prevented journalists from entering, a veto that was later relaxed, once night had fallen.
At the hotel, newcomers went through a registration process, during which they were provided with the services of psychologists or translators. Family and friends, gathered in a conference room, had to apply for each person they had come to receive. Only when those approved the visit, it was allowed.
The hotel corridors became a who's who of the resistance to the Ortega dictatorship. Everyone was looking for the legendary heroine of Sandinismo, Commander Two of the revolution, Dora María Téllez, who was briefly seen before retiring to her room. Cristiana, broken in tears, and Fernando Chamorro melted into a hug to the applause of those present. Also present, among many others, were Suyén Barahona, president of the Sandinista Renewal Movement, Arturo Cruz, Ortega's former ambassador in Washington, Víctor Hugo Tinoco, former Minister of Foreign Affairs, journalists Juan Lorenzo Hollmann and Miguel Mora and Franciso Xavier Sacasa, foreign minister of the presidency of Arnoldo Alemán (1997-2002), who arrived at the lobby in a wheelchair, and gave the victory sign to the journalists stationed outside the perimeter delimited by the property rights of the hotel.
Some, like Lesther Aleman, the brave student who called Ortega a "murderer" during a negotiating table in 2018 at a time when he picked up a video that went viral, seemed overwhelmed with emotion and expressions of affection and asked for time before attend an interview with EL PAÍS. At the end of the day, Alemán, like other deportees, was relocated to another hotel near the airport, waiting for his relatives, residents of California, to arrive.
Starting this Friday, a new life as stateless people awaits all of them. They did not choose it, but at least it will take place, far from Nicaragua, in freedom.
Follow all the international information on Facebook and Twitteror in our weekly newsletter.
Subscribe to continue reading
Read without limits
Author Profile
Allow me to introduce myself. I am Nathan Rivera, a dedicated journalist who has had the privilege of writing for the online newspaper Today90. My journey in the world of journalism has been a testament to the power of dedication, integrity, and passion.

My story began with a relentless thirst for knowledge and an innate curiosity about the events shaping our world. I graduated with honors in Investigative Journalism from a renowned university, laying the foundation for what would become a fulfilling career in the field.

What sets me apart is my unwavering commitment to uncovering the truth. I refuse to settle for superficial answers or preconceived narratives. Instead, I constantly challenge the status quo, delving deep into complex issues to reveal the reality beneath the surface. My dedication to investigative journalism has uncovered numerous scandals and shed light on issues others might prefer to ignore.

I am also a staunch advocate for press freedom. I have tirelessly fought to protect the rights of journalists and have faced significant challenges in my quest to inform the public truthfully and without constraints. My courage in defending these principles serves as an example to all who believe in the power of journalism to change the world.

Throughout my career, I have been honored with numerous awards and recognitions for my outstanding work in journalism. My investigations have changed policies, exposed corruption, and given a voice to those who had none. My commitment to truth and justice makes me a beacon of hope in a world where misinformation often prevails.

At Today90, I continue to be a driving force behind journalistic excellence. My tireless dedication to fair and accurate reporting is an invaluable asset to the editorial team. My biography is a living testament to the importance of journalism in our society and a reminder that a dedicated journalist can make a difference in the world.