Siege in Israel of those who express their solidarity with Gaza: it is a "hunt" against the Palestinians | International
Israel tries to put a stop to citizens who express their solidarity or sympathy with Gaza by understanding that it constitutes support for terrorism. Since last October 7, the day of the Hamas massacre in Israeli territory, there have been hundreds of arrests in demonstrations, expulsions from jobs or suspension of students from their educational centers. The majority are Palestinians with Israeli citizenship. Parliament approved this Wednesday in the first instance an amendment to the anti-terrorism law to include a new crime and punish the consumption of material related to Hamas or the Islamic State (ISIS) with up to one year in prison.
"Zero tolerance," said the head of the Israeli police, Yaacob Shabtai, and has also threatened to deport those who do not respect the order to the Strip. He did it last week through the Arabic profiles of the body's social networks such as TikTok or X (the old Twitter). Activists, human rights organizations and lawyers consulted maintain that with measures like these, which they see as illegal, the Israeli authorities are trying to curb the freedom of expression of the country's Palestinians—and, in some cases, also Jews—and prevent the denunciation of possible war crimes in Gaza. Some, like activist Fidaa Shehade, denounce a new "hunt" against the Arab-Israeli population, which represents 20% of the country's 9.2 million citizens.
Social networks have become the perfect fishing ground to unleash this persecution. Just a simple I likea WhatsApp status with Quranic verses or the colors of the Palestinian flag to launch the accusatory machinery, according to the testimonies collected. One of the latest to be arrested was the actress Maisa Abd Elhadi, whom the police accuse of "praising a terrorist organization," as the force announced in X this Tuesday.
The cases are being reported by Arab-Israeli organizations and some are already in court. EL PAÍS has been able to speak with three affected people by telephone: Khetam, a 22-year-old teacher; Maha, a 29-year-old law student, and Sirin, a 27-year-old journalist (for security reasons, they prefer not to give surnames and Maha's is an assumed name). The first two have been fired from their workplaces; the third was arrested during a demonstration. Sometimes, even the celebration of a wedding on October 7 itself served as an argument for those in charge of a school to question the bride's sister for her publications with fireworks.
"Since the war began, Israel's far-right racist government has been capitalizing on Israeli anger and anxiety, amidst the fog of war, to promote oppressive policies and entrench the view that Palestinian citizens of Israel They are enemies," says Hassan Jabareen, director of Adalah, an NGO that defends the rights of Israel's Arab minority. "When Prime Minister (Benjamin) Netanyahu mentions the need to reinforce the call internal border In his speeches, he is clearly transmitting this message to the Israeli public opinion," he adds. The Knesset (Parliament) initiative represents an "atrocious" attempt to control the freedom of expression and thought of citizens, denounces Adalah.
Join EL PAÍS to follow all the news and read without limits.
Subscribe
The feminist NGO Kayan, which defends Palestinians in Israel, has received 270 calls warning of abuses since last October 7, when, normally, the flow is 600 a year. In a statement, they describe the current situation as "extreme racism and discrimination."
Lawyer Sawsan Zaher, a human rights advisor to the Arab community, handles about 60 cases. Between her and other colleagues, hundreds. It refers to suspensions or direct expulsions from the university of students and teachers or people fired from their jobs. Many through posts on Facebook or other social networks. On Saturday, Zaher faced an appeal session for three expulsions from a university center near Nahariya, in the northwest. In many cases, adds this lawyer, the process opens without the possibility of complaining on the part of the accused or offering details about what they have published, as is the case with several students suspended at Ben Gurion University, in the south of the country, with some 60 members of its community victims—dead, missing or kidnapped—in the Hamas attack.
The deportation proposal made by police chief Yaacob Shabtai amid "racist and inflammatory comments" is "illegal," the NGO Adalah denounces in a statement. The text considers that the initiative is part of a siege on freedom of expression in the environment of repression created under the current war. This climate is also experienced in the Rehovot City Council, near Lod, which intends to force builders to sign that they will not employ Palestinian workers in their projects, something that Adalah has denounced.
Maha, the law student, who lives in Jaffa, posted some Quranic verses on her WhatsApp status. Shortly afterward she received an email announcing that she had been expelled from her school, she explains. Her lawyer tries to confront what they consider an illegal act. Sirin, the reporter, spent the night from Wednesday to Thursday of last week detained in Haifa after attending a demonstration and being accused of raising a pro-Gaza banner, something she denies.
Khetam, a kindergarten teacher, has also put her expulsion from the center where she taught in the hands of a lawyer, to whom they have demanded her return by letter. Her reason was to publish the date of October 7 in her WhatsApp status with a heart in the colors of the Palestinian flag. After pressure from her superiors, who first went to the police, the young woman deleted it, but that did not stop them from announcing her dismissal. She acknowledges that all of her students are Jewish, but that some of her parents, she assures her, have supported her through messages. She doesn't think it's time to go back to class, although her father doesn't agree with her. "You have to fight to come back," she says he tells her. "Once you achieve it, you resign voluntarily and leave with your head held high."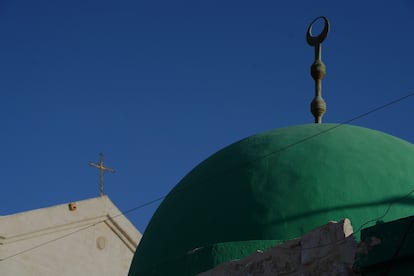 "The current crackdown has led to an unprecedented number of arrests based solely on social media posts, alleging support for terrorism or sympathy with terrorist organizations. However, the vast majority of these publications were expressions of solidarity with the Palestinian people in Gaza and, in some cases, simply shared verses from the holy Quran," says Hassan Jabareen.
The number of detainees since the day of the massacre committed by members of the Islamic fundamentalist militia exceeded one hundred last week and, since then, dozens of more cases have occurred, according to sources from their organization. The unit to combat cybercrimes established by the Minister of National Security, the far-right Itamar Ben Gvir, has opened 180 cases for alleged support for Hamas or defending terrorism, the NGO adds. In 93 cases an investigation was opened and in 63 the accused were kept in custody. They also know of the cases of 83 students who have had disciplinary proceedings opened and have more than 40 reports of people who have been fired or suspended from employment.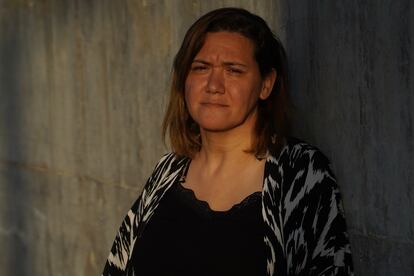 "It's a hunt," says Fidaa Shehade, a 40-year-old Arab-Israeli activist, during an interview at her home in the city of Lod, where she was a councilor during the last legislature. She regrets that the Israeli media lacks voices from her community and cannot express her condolences on social media for what is happening in Gaza. "They don't let us explain what we think or feel," she complains, delving into the idea that this wall of silence is another form of discrimination. The Government led by Netanhayu "seeks segregation" and for its members "in Gaza everyone is Hamas," says the activist.
Lod is located near the Tel Aviv airport, which Hamas is trying to reach with its rockets these days. At Shehade's house, some explosions can be heard over the sky from Israeli air defense systems. The house is surrounded by cameras, eight in total, permanently connected to the large television screen in front of which she talks to EL PAÍS. These security measures are a reminder of the days of maximum violence experienced in Lod and other cities in 2021 with serious riots carried out by people from the two communities. The house was then attacked several times – Israeli settlers are accused – and the activist's father decided to install the cameras. "They don't prevent them from attacking us again, but at least we can file a complaint with evidence," she says with a half smile. In 2018, the Arab community could not prevent the approval of the controversial law of the Jewish nation state that reserves only the Jewish people the right of self-determination and leaves Hebrew as the only official language to the detriment of Arabic.
Fidaa Shehade remembers her childhood between Israel and Gaza, from where her mother, Hanan Shehada, 62, arrived in 1980. "In addition to vacations, on Thursdays, when we left school, we would go to Gaza, where my mother is from. It was an hour's drive. Sunday morning [el fin de semana allí es el viernes y sábado] We went straight back to go to class again," he explains while carrying the school backpack on his shoulders. Today, that is unthinkable. The walls, the blockade, the violence... keep that Palestinian enclave isolated and closed. Shehade has not been there for 16 years, since 2007. These days the activist is preparing for her wedding, which will take place in December, but she affirms that she does not plan to be a mother. "I don't want to have children in this environment," she comments, twisting her face in a sad gesture.
Follow all the international information on Facebook and xor in our weekly newsletter.
Subscribe to continue reading
Read without limits
_
Author Profile
Allow me to introduce myself. I am Nathan Rivera, a dedicated journalist who has had the privilege of writing for the online newspaper Today90. My journey in the world of journalism has been a testament to the power of dedication, integrity, and passion.

My story began with a relentless thirst for knowledge and an innate curiosity about the events shaping our world. I graduated with honors in Investigative Journalism from a renowned university, laying the foundation for what would become a fulfilling career in the field.

What sets me apart is my unwavering commitment to uncovering the truth. I refuse to settle for superficial answers or preconceived narratives. Instead, I constantly challenge the status quo, delving deep into complex issues to reveal the reality beneath the surface. My dedication to investigative journalism has uncovered numerous scandals and shed light on issues others might prefer to ignore.

I am also a staunch advocate for press freedom. I have tirelessly fought to protect the rights of journalists and have faced significant challenges in my quest to inform the public truthfully and without constraints. My courage in defending these principles serves as an example to all who believe in the power of journalism to change the world.

Throughout my career, I have been honored with numerous awards and recognitions for my outstanding work in journalism. My investigations have changed policies, exposed corruption, and given a voice to those who had none. My commitment to truth and justice makes me a beacon of hope in a world where misinformation often prevails.

At Today90, I continue to be a driving force behind journalistic excellence. My tireless dedication to fair and accurate reporting is an invaluable asset to the editorial team. My biography is a living testament to the importance of journalism in our society and a reminder that a dedicated journalist can make a difference in the world.