Shots fired, houses burned and olive trees smashed: settlers' revenge for the latest deadly attack in Jerusalem | International
Jamal Kadar did not hear the second shot because it went through his abdomen. It was on January 27, when he was celebrating with other young people from Beita, his town in the north of the occupied West Bank, the attack in which another Palestinian had killed seven people a few hours earlier in front of a synagogue in Neve Yaakov, a nearby settlement. to Jerusalem. "I was talking to some friends and I heard a shot. I turned and saw a car [con matrícula] Israeli more or less at the same moment that I felt that I was given. It was all very fast, "he explains now ―with a bad face and IV, but calm― in the hospital room in the city of Nablus, Rafidia, where he is recovering. His parents show the medical report and he, 23 years old, the bruise on his left arm that the bullet left on his way out. He had learned from his mother, a nurse, what to do until he got medical help, so he pressed the entry and exit wounds while he "did everything possible not to lose consciousness," he recalls.
Kadar assures that nobody got out of the vehicle, that someone opened fire from inside. And that he did not expect it because the Jewish settlers in the area rarely cross the crossing in sabbath, which had begun at sundown. They don't drive that day because the vast majority are religious. "It was the only Israeli car that went through there," he notes. Four other people were wounded by gunshots in the attack, according to the Palestinian Authority Ministry of Health. "As we Muslims say, it was my destiny. Of course, it has been a test from God. It doesn't change my opinion about the situation. This could have happened to any other Palestinian."
It happened next to one of the roundabouts on Highway 60 where all the tension and paradoxes of the hottest area of ​​this occupied territory are concentrated. As it crosses the West Bank vertically, in some sections the cars of Palestinians and Israelis who live in settlements in the area coincide. Part of the settlers (whose number has just exceeded half a million, not counting East Jerusalem) reside in the West Bank, attracted by the lower price of housing, subsidies to promote colonization or the natural environment. Others, the most radical, see it as an ultranationalist and religious enterprise to populate Eretz Israel, a biblical concept that encompasses both Israel and Palestine.
The latter, in their most violent version, are the ones that, following the attack on Jerusalem, launched a wave of attacks against Palestinian civilians and their property that dwarfed the usual ones. "Tag majir", they call it: charging a price, beyond the response ―which they consider flimsy― of the Israeli Army and Police. An assault on a man in Masafer Yatta, dozens of trees uprooted near Nablus, a house burned down near Ramallah... In the Nablus area alone there were 144 incidents on Saturday, according to the person in charge of the dossier in the Palestinian Authority, Ghassan Daghlas, to the official agency Wafa. The Israeli NGO Btselem has documented at least fifty, although it qualifies that there are probably many more. Shooting cases, like Kadar's, are more isolated. Retaliation typically comes in the form of physical assault, throwing stones or Molotov cocktails, and burning or damaging vehicles, homes, crops, or livestock.
Join EL PAÍS to follow all the news and read without limits.
subscribe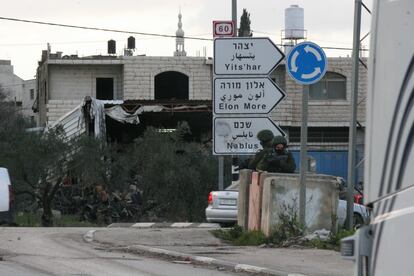 This is what happened in Turmusayya. The town has little to do with the visual imaginary of Palestine: guns and poverty. Due to a historic migration that began at the beginning of the 20th century, the majority of its 11,000 inhabitants also have American nationality and more than half only come during the summer. As many have made money, the houses compete today in square meters and decoration. The first one you reach from one of the small Jewish settlements around Shiló was set on fire the same night of the attack, apparently with a Molotov cocktail. "We saw what was happening on Facebook Live and about 15 neighbors came out with buckets of water to turn it off," says Ahed Asad Yibara, who continues to refer to it as her brother's house, despite the fact that he died of covid two years ago. years. He inherited it from his wife, who lives in New York, and now the man has had to explain to his sister-in-law by phone what happened. The images from the security cameras show how three young people sneak into the house and flee, already with the fire behind them. Two nearby houses have broken windows. "There were two jeeps [militares] Israelis at about 200 or 250 meters, and they did literally nothing", Yibara protests.
The flames incinerated the car that was parked on the porch and brought down the pagoda-shaped roof, now a blanket of brick tiles and burned wooden slats. The interior is intact. "Thank God no one lives here. It could have ended up like Duma," he says, referring to the nearby town where three Palestinian relatives, including a baby, died in a fire caused by a radical settler throwing a Molotov cocktail at the house in 2015.
🚨WATCH: appalling video footage shows settlers invading a home in the village of Turmusayya, burning and destroying the house and cars nearby. Miraculously, there were no reported injuries.
Video and photo credit: Yesh Din pic.twitter.com/duovmr9n3Y

— Yesh Din English (@Yesh_Din) January 30, 2023
Yibara, who was born in Chicago and settled in her family's town 12 years ago because she wanted to connect her children to her roots, says the attack was "more aggressive than others." "Clearly, they wanted to show that it was revenge. They usually come a couple of times a month and, normally, they throw stones, paint 'Death to the Arabs' graffiti or, in summer, they burn our corn and wheat", she adds. Her family has not filed a complaint and will not. "[Las fuerzas de seguridad israelíes] They have done hundreds of investigations and nothing ever happens. They are protecting you. It's been three years since we filed a complaint. Many people have already wasted too much time, even in court, "he argues. Asked about the incident and whether there have been any arrests, the Israeli police say that they have an investigation underway about which they cannot go into details, but that they will carry it "to the end."
Palestinians, human rights NGOs and international organizations coincide in denouncing the passivity (in the mildest criticism) or complicity (in the harshest) of the Israeli security forces towards the attacks carried out by the inhabitants of some settlements that the Israeli State well it has contributed to erecting, or has often ended up legalizing, years after being erected on hilltops by young religious nationalists, in violation of the national law itself. This group is the one that has gained unprecedented strength in the new Executive of Benjamin Netanyahu.
Between 2005 and June 2021, 92% of investigations into these types of crimes were closed without charges and only 3% ended in a conviction, according to Yesh Din (There is justice, in Hebrew), an Israeli human rights organization that follows the topic. The NGO concludes, according to police data, that the number of accusations against Israelis for harming people is six times less if the victim is a Palestinian. In the West Bank there is a dual justice system. The settlers, as Israeli civilians, are tried according to the civil law of the country, while the Palestinians are governed by military law because they are under military occupation.
The Israeli Army underlines the "complexity" of the situation. "We are in the middle and we try to do our job," says one of his high command, who points out that any aggression against Palestinians "is treated as a violation of the law." "There are settlers who feel that we are not doing enough. Every day they throw stones or shoot at them. They live in fear. And a part of them, not representative, takes the law into their own hands", added the high command, noting that since January the Israeli security forces and civilians have suffered 59 shot, stabbed or run-over attempts in the West Bank.
double incident
The number of attacks in the West Bank on Palestinians and their property has not stopped growing since 2016. Last year it reached 838, almost double the number in 2021 (446), which had already been considered particularly violent due to clashes between Jews and Arabs. which triggered an Israeli offensive in Gaza. In 2020 there were 353, according to Army data.
2021 is also the year that Hisham Hmud finished building his new house in Yalud, another town in the northern West Bank. Since then, he assures, four times tools have been stolen, windows broken, trees uprooted and -in one- the car was set on fire, inside his compound. "Four times I have planted the olive trees, four times they have broken them", he laments while holding one, very young and small. "I even brought a dog to protect the house and it was stolen, or I don't know, but he disappeared."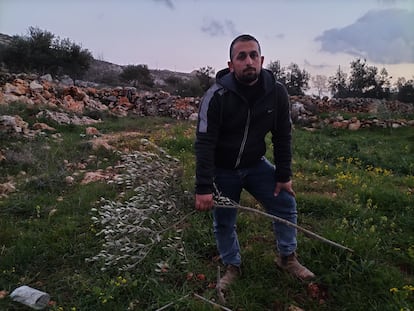 The last time was last Sunday. He, his wife and his two sons were outside. There are boulders in the doorway and signs of blows on the reinforced door that he has finished installing.
A part of the border fence is broken, in a straight line from the Ahiya colony, erected very close, about 300 meters. Hmud, a 32-year-old construction worker, says that on previous occasions he saw the settlers come down from the hill, but never dared to come out. "What can I do, without a weapon to defend myself? Record them?… If I go out, they kill me ", he affirms. From inside, he heard the shouts of "Arabs, dirty" and "Sons of bitches," he recalls as his one-year-old daughter is frustrated when she opens the window to discover a solid aluminum plate behind it. .
"One of the tragedies is that I go to work and I worry that something will happen to my wife and children," he says. Before entering, he takes off his shoes, knocks on the door and tells his family, half jokingly, half seriously: "It's me... not a settler."
Follow all the international information on Facebook and Twitteror in our weekly newsletter.
Subscribe to continue reading
Read without limits
Author Profile
Allow me to introduce myself. I am Nathan Rivera, a dedicated journalist who has had the privilege of writing for the online newspaper Today90. My journey in the world of journalism has been a testament to the power of dedication, integrity, and passion.

My story began with a relentless thirst for knowledge and an innate curiosity about the events shaping our world. I graduated with honors in Investigative Journalism from a renowned university, laying the foundation for what would become a fulfilling career in the field.

What sets me apart is my unwavering commitment to uncovering the truth. I refuse to settle for superficial answers or preconceived narratives. Instead, I constantly challenge the status quo, delving deep into complex issues to reveal the reality beneath the surface. My dedication to investigative journalism has uncovered numerous scandals and shed light on issues others might prefer to ignore.

I am also a staunch advocate for press freedom. I have tirelessly fought to protect the rights of journalists and have faced significant challenges in my quest to inform the public truthfully and without constraints. My courage in defending these principles serves as an example to all who believe in the power of journalism to change the world.

Throughout my career, I have been honored with numerous awards and recognitions for my outstanding work in journalism. My investigations have changed policies, exposed corruption, and given a voice to those who had none. My commitment to truth and justice makes me a beacon of hope in a world where misinformation often prevails.

At Today90, I continue to be a driving force behind journalistic excellence. My tireless dedication to fair and accurate reporting is an invaluable asset to the editorial team. My biography is a living testament to the importance of journalism in our society and a reminder that a dedicated journalist can make a difference in the world.