More than seven years have passed, but Anas Modamani perfectly remembers that moment that changed her life. She had been living in a reception center in Spandau, west of Berlin, for two weeks when one day she saw a woman get out of a car with tinted windows wrapped in a cloud of photographers who looked important. "No, I didn't know who she was," she recalls with a laugh. She managed to get closer and by signs she asked him for a selfie. The image of a smiling Angela Merkel giving a thumbs up next to an 18-year-old Syrian refugee went around the world and became a symbol of Germany's open-door policy.
Modamani, who is 25 years old today, learned that she had taken a photo with the German chancellor that same night, when she posted it on social media. It was September 10, 2015, in the midst of the migration crisis, and only a few days had passed since Merkel's famous phrase "we will make it". After announcing that the refugees who were crowding at the gates of the European Union fleeing the war in Syria could enter Germany, the chancellor thus invited her compatriots to join the collective effort to welcome and integrate hundreds of thousands of people. And they succeeded, or so Modamani believes, perfectly aware of being himself a symbol of the success of that decision.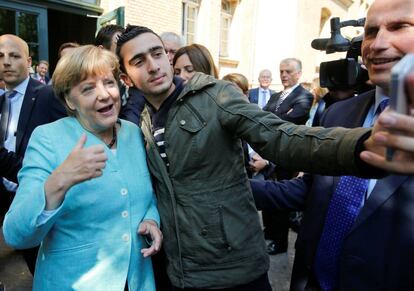 The young man, who sits down to tell his story in a cozy cafeteria in Lichtenberg, a neighborhood in eastern Berlin, is especially happy: he is now a German citizen. Picking up his passport at the municipal offices, accompanied by his girlfriend, the Ukrainian student Anna Yarysh, was so exciting for him that he wanted to record it. The moment was broadcast on the Berlin and Brandenburg public television channel RBB, where he was doing an internship. About to finish Business Communication, Modamani continues to combine studies with hourly or weekend jobs. He tells that he went through a McDonald's, he sold Currywurst (grilled or grilled sausages with curry) on the pitch of Alba Berlin, he was a cashier at an Edeka supermarket… Earning some money, and not depending exclusively on social assistance, was always a priority for him.
"I feel at home here," he says in German with hardly any accent. And she corrects herself: "Berlin is my home." He lives with Anna in a rented apartment on Landsberger Avenue, where neighbors wave at him as he poses for photos. The selfie with Merkel made him famous, for better or for worse. The next day, journalists from half the world appeared at the refugee center to interview him. "People wrote to the center to welcome me to Germany," he recalls. They sent him warm clothes, invited him to have coffee and chat to help him learn German. His fame also helped him to contact a Berlin family that welcomed him into his home for the first few years.
But the selfie also made him the target of smears and racist hoaxes from far-right publications attacking Germany's immigration policy. Every time something related to refugees happened, fake news appeared calling him a terrorist or a murderer. It happened, for example, with the terrorist attacks in Brussels in March 2016, with the attack on the Christmas market in Berlin in December of that year, or with the murder of a homeless man in a metro station in the German capital: " They made a Photoshop montage with my photo and put: it was the refugee from the selfie with Merkel".
Join EL PAÍS to follow all the news and read without limits.
subscribe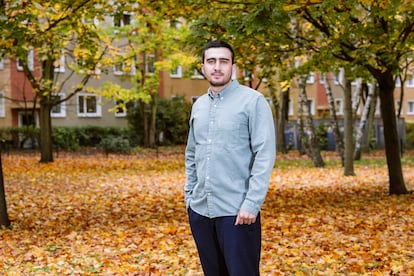 When he escalated the insults and threats, the foster family put him in touch with a lawyer and sued Facebook for spreading slander. The case generated enormous interest around the world, because it questioned the business model of all the platforms that publish supposed news without verifying it. In 2017, the German court sided with the technology company, which argued that it could not track and delete all slanderous content by default, but that it did when users reported it. Modamani did not feel like appealing, but he believes the case served to raise awareness about the problem.
"Only at my university I know of 10 other Syrians who are doing their degree and I know of several cases of entrepreneurs who have set up businesses," Modamani replies when asked if his case is exceptional or just the most publicized among thousands. She acknowledges that the selfie helped him, but above all that he had "goals, dreams and motivation."
Seven years after that massive arrival of refugees, the balance is, in general, positive. Academics who study the phenomenon tend to say that it is not a sprint, but rather a marathon, that is, that integration will have to be evaluated over time and will settle with the next generations.
The figures from the Federal Office for Migration and Refugees reflect the unprecedented wave of refugees who arrived in Germany in 2015. Between that year and the next, more than 1.2 million people requested asylum in a country that in the previous decade hardly received , on average, 30,000 requests per year. They were mainly from Syria, Afghanistan and Iraq.
"Given how unprepared the reception system was, in general it can be said that the integration has worked, but it has not been entirely successful," says Adriana Cardozo, a researcher at the German Institute for Economic Research (DIW). The latest studies show that more than half of working-age refugees are integrated into the labor market.
A recent work by Herbert Brücker, also from the DIW, in fact highlights that this cohort has integrated faster than the refugees who arrived in the 1990s. Their income, however, is lower than that of other immigrants and than native Germans.
There are still obstacles that prevent improvement. Cardozo participates in the large longitudinal survey of the socio-economic panel (SOEP) that studies precisely how life in Germany is evolving for those who arrived in 2015. In his opinion, the three main difficulties are bureaucratic processes —for example, to obtain work permits— , the recognition of the titles obtained in the country of origin and, above all, the language. "Learning German is the key to the job market," he recalls. It is very difficult to get a contract without a good level of German, something that the country is beginning to reconsider given the pressing shortage of qualified workers.
The centers that teach the so-called "integration courses", which teach the language from scratch and up to an intermediate level, also witnessed the massive arrival of new citizens. In 2016 the places multiplied by five. Knowledge of German has improved over the years, says Cardozo. If in 2016 only 16% of men rated their level as "high", now 52% consider it so. And it is important to point out that it is the male refugees who have made this evolution; In the case of women, researchers have found "a gap", both in linguistic competence and in access to the labor market.
Modamani says that he just wanted to live in a country where there was no war. He chose Germany because he had a friend in Munich who could help him: "There were people who told me that integration in Turkey would be easier because we have a similar culture, but now I am so glad that I made this decision". His gratitude to Merkel, whom he calls a "heroine", is endless. He says that she saved his life. "It was she who opened the border. I know perfectly; She was there. She said she opened up and we were able to get in."
The young Syrian made the so-called Balkan route after crossing the Mediterranean to Greece. His parents gave him all his savings to start the trip: 3,000 euros. From Damascus he flew to Izmir, on the Turkish coast. And there he paid off human traffickers to secure a place on a boat. He got it on the third try. In the first the engine failed; in the second, the coastguards pushed them back. Finally they set sail but the boat sank near the island of Kos. He reached the beach by swimming. "It was night. Others did not succeed, "he recounts.
Modamani has been involved with the other recent wave of migration to Germany, that of Ukrainians who have fled Russian bombing. Now he is the one who is willing to help those in need: "When I arrived, I dreamed of having my own house. And I have it. With having a German passport. Here it is. I wanted to study a career, and I'm almost done."
Follow all the international information on Facebook Y Twitteror in our weekly newsletter.
Subscribe to continue reading
Read without limits