Palestine: The other death threat in Gaza | International
In Gaza there are people whose lives hang by a thread due to the lack of medicine and fuel in hospitals. The risk of dying from the bombings in the Strip is high: even before Israel announced this Saturday the start of a new phase of attacks - expected to be bloodier - in 22 days of siege, more than 7,700 Palestinians have already succumbed to the bombings. missiles. But those who suffer from chronic diseases that require medical treatment, whether with drugs, diagnostic tests or hospital therapies, are facing an additional threat. They are diabetes patients who need insulin; those with cancer, subject to radiotherapy or chemotherapy; those with kidney failure that require dialysis or cardiovascular patients who must take daily medication... In total, the World Health Organization (WHO) estimates that there are 350,000 people within the Strip in this situation.
This population group suffers from one or more non-communicable diseases, that is, those pathologies that are not caused by an acute infection, but have long-term health consequences and frequently require treatment and care, often for life. . Among them, there are four that represent more than two-thirds of deaths worldwide: cancer, diabetes, cardiovascular diseases and chronic respiratory diseases. In Gaza, all of them are present, although they go unnoticed. What's more, they are among the main causes of mortality in the population.
When a life depends on electricity
Of the 350,000 patients that the WHO estimates suffer from a non-communicable disease, there are at least 9,000 with some type of cancer, mainly breast, liver and lung, who are now seeing their therapies suddenly stopped. Before October 7, around 2,000 cancer patients left for Jerusalem, the West Bank or Israel to receive chemotherapy or radiotherapy, because in Gaza there is no availability. These can no longer leave, and the rest had as their reference the Turkish-Palestinian Friendship Hospital, the only specialized one in the Strip. On October 17, its general director, Dr. Sobhi Sikk, announced that they had to interrupt "a large part of their services" and that the center would close within the next 48 hours at the latest. A week later, the WHO Middle East Office (EMRO) confirmed that it was operating "partially" due to a lack of fuel.
The unprecedented bombings, the closure of border crossings and the water and electricity cuts imposed by Israel in retaliation since October 7, when the Palestinian Hamas militia attacked this country, are pushing health systems to the limit. At this time, 34% of hospital centers are no longer in service, nor are 64% of primary care centers. Those that remain open lack supplies and precious fuel, essential for hospitals to continue functioning. According to Doctors of the World, 19 sanatoriums have been affected, of which seven have had to close due to the damage suffered, the lack of power and the evacuation orders from the Israeli army. David Cantero, head of mission of Doctors Without Borders (MSF) in Jerusalem, denounces that the health system is on the verge of collapse. "They must allow the unconditional entry of humanitarian aid that includes water, food, medicine and fuel," he claims.
"Despite the transfer orders, 17 hospitals remain operational in northern Gaza, as evacuation would put the lives of many fragile patients at risk: people undergoing hemodialysis, newborns in incubators or the sick in intensive care. "They cannot be deprived of medical care on which their lives depend," the WHO has denounced. The limited humanitarian aid that has so far entered through the Rafah crossing in the south has not reached hospitals in the north.
Join EL PAÍS to follow all the news and read without limits.
Subscribe
The lack of fuel in Gaza most immediately affects people whose lives now depend on electricity. Cantero warns that when the generators stop, all those lives that depend on machines will be turned off "in a matter of minutes." "People in intensive care, most of them connected to respirators, and children who are in incubators, will be the first victims," he laments.
Mecca is one of them. She is a girl who came into the world on October 21 abruptly and prematurely, after a bombing killed her mother, Dareen, who was in an advanced state of pregnancy. They were able to deliver the baby by cesarean section and since then she has survived in an incubator. Like her, 130 newborns depend on these neonatal units.
Hemodialysis machines are also a lifeline for at least 1,000 Gazans affected by kidney failure, including 38 children, and they are also about to stop working, warns Raquel Martí, executive director in Spain of the United Nations committee for Palestine Refugees in the Middle East (UNRWA). "Before [del ataque de Hamás] There were 30,000 dialysis sessions per month, and for that, 13,000 filters, 13,000 blood collection tubes and 26,000 cannulas were needed. But since the offensive began, this material has not entered the Strip," he explains about this treatment that serves to purify the blood when the kidneys are not capable of doing so. This week, the general director of Al Aqsa Martyrs Hospital in Deir al Balah warned on Al Jazeera television that they were reducing sessions. "A kidney dialysis patient now undergoes treatment once or twice a week for one or two hours, but before they used to come three times a week," he said.
Plestia Alaquad is a Palestinian journalist from the Strip and is one of the few who has been able to send information since Gaza was left without internet and telephones this past Friday due to the bombings. This Saturday, Alaquad warned that the situation is getting worse by the minute. "There is no service [de red]; That means that if you are dying you cannot call an ambulance, and some cannot continue because they have run out of fuel. "Hospitals are going to stop working at any moment due to lack of electricity," he denounced, in line with the warnings in the latest emergency situation report from the WHO office.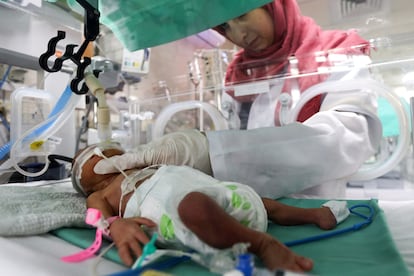 Among the risk groups are also pregnant women, who number around 50,000, of which 5,500 will give birth next month. They are not sick, but they are They need continuous monitoring, including ultrasounds, and sometimes they must follow a medication regimen or at least vitamin, calcium, iron or folic acid supplements, which are non-existent. Before the invasion, 40% of pregnant women suffered from anemia, and with feeding difficulties, the situation is going to worsen. "They are the first to suffer malnutrition. They are not being given the vitamins they need to have a normal pregnancy and so that the child is not born with deficiencies," says Martí, who recalls that they are registering an average of 183 births daily in the Strip.
Furthermore, given the critical situation of hospitals, many are already choosing to give birth at home, which increases the risk of maternal and neonatal mortality.
Essential medications for survival
The Ministry of Health estimates that their current daily consumption of medical supplies is equivalent to their monthly consumption before the conflict broke out. Among the most demanded drugs is insulin. "All medications and medical supplies are running out, including those needed for immediate response to victims (e.g., saline solution, anesthesia), those needed to treat long-term conditions (e.g., insulin), and medications that "They save the lives of newborns," denounces the WHO office for the Middle East. Anesthesia is being used for those injured by the missiles, but it almost does not exist anymore, which is forcing doctors to perform very aggressive surgeries, such as amputations, without sedation. Blood for transfusions is also in short supply, and even if it were not, it is impossible to keep it refrigerated if there is no electricity.
Patients with cardiovascular conditions are also a cause of concern because they are the main cause of mortality in the Palestinian territories. The main one is hypertension, which affects 10% of the adult population.
On the other hand, the prevalence of diabetes is increasing by leaps and bounds until it has become a global health concern. In Gaza, 16% of those over 40 years of age are diabetic and depend on insulin to avoid dying, but this treatment is increasingly difficult to obtain. Rawya Halas, director of one of the UNRWA vocational training centers in Khan Yunis, cried a few days ago in front of a camera at the desperate situation, with 15,000 people sheltering in her school and barely being able to give them water. "We need insulin, people are dying and we can't give them anything; It's catastrophic," she sobbed. In fact, UNRWA no longer has 85 drugs considered essential, and Martí estimates that what they have left will be exhausted in about 10 or 12 days.
Follow all the international information on Facebook and xor in our weekly newsletter.
Subscribe to continue reading
Read without limits
_
Author Profile
Allow me to introduce myself. I am Nathan Rivera, a dedicated journalist who has had the privilege of writing for the online newspaper Today90. My journey in the world of journalism has been a testament to the power of dedication, integrity, and passion.

My story began with a relentless thirst for knowledge and an innate curiosity about the events shaping our world. I graduated with honors in Investigative Journalism from a renowned university, laying the foundation for what would become a fulfilling career in the field.

What sets me apart is my unwavering commitment to uncovering the truth. I refuse to settle for superficial answers or preconceived narratives. Instead, I constantly challenge the status quo, delving deep into complex issues to reveal the reality beneath the surface. My dedication to investigative journalism has uncovered numerous scandals and shed light on issues others might prefer to ignore.

I am also a staunch advocate for press freedom. I have tirelessly fought to protect the rights of journalists and have faced significant challenges in my quest to inform the public truthfully and without constraints. My courage in defending these principles serves as an example to all who believe in the power of journalism to change the world.

Throughout my career, I have been honored with numerous awards and recognitions for my outstanding work in journalism. My investigations have changed policies, exposed corruption, and given a voice to those who had none. My commitment to truth and justice makes me a beacon of hope in a world where misinformation often prevails.

At Today90, I continue to be a driving force behind journalistic excellence. My tireless dedication to fair and accurate reporting is an invaluable asset to the editorial team. My biography is a living testament to the importance of journalism in our society and a reminder that a dedicated journalist can make a difference in the world.