Morocco: In the epicenter of the earthquake, Ahmed was saved thanks to some apples | International
Sometimes, an unexpected decision, a stroke of luck, saves your life. Ahmed Ait-Hamed's luck was twofold: good and bad. After 11 pm last Friday, this 80-year-old man remembered the wild boars that, every night, visit the surroundings to eat the apples from his orchard and decided to leave his house with his cane to scare them away. Once there, the ground shook and the ceiling he was under minutes before collapsed. Below were his wife, Fatma, one of his children, his daughter-in-law, Saida, and two of the latter's four children. No one explains how the other two, a boy and a girl aged 14 and 11, were saved.
Ahmed is the paradigm of this area of ​​the country. Large families with many children who, given the scarcity of what the countryside provides, are forced to emigrate to the city. Of her four children, three went to Casablanca years ago to work in the textile industry. Only Saida's husband had stayed with him.
The medical team from the Urgent Medical Care Service (SAMU) of Seville is the first rescue group to arrive in Anerni, one of the closest towns to the epicenter of the Moroccan earthquake, just 80 kilometers from Marrakesh. There is no road up to here, only a track that, after the earthquake, became impassable due to the rocks that fell on it. Only two days later, the road has been more or less clear and the vehicles have begun to arrive.
During the 48 hours in which this village of half a thousand inhabitants was isolated, a group of neighbors led by Said, single-handedly, removed 37 dead people from the rubble. Only with their picks, shovels, hoes and levers, they also saved many other people. Like I., 10 years old, orphaned by his father and who this earthquake has also left without a mother or sister. He is alone and wanders around the town. He shows the wounds he sustained during the two hours he was buried. Smile.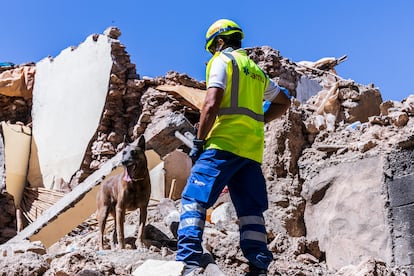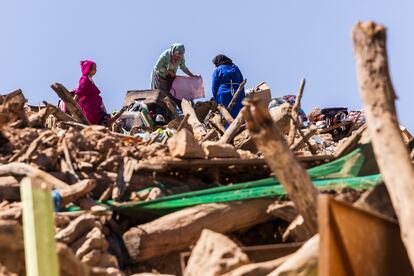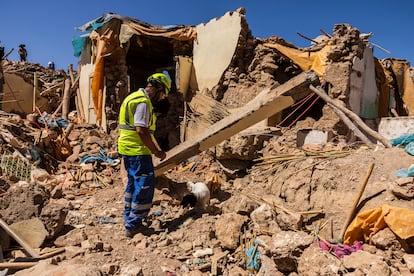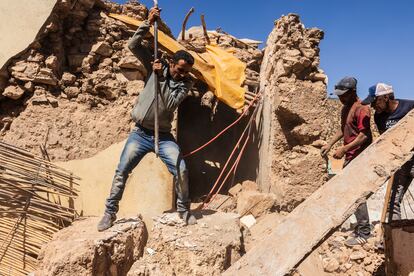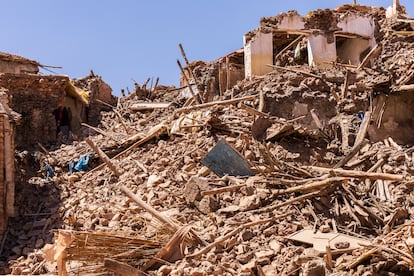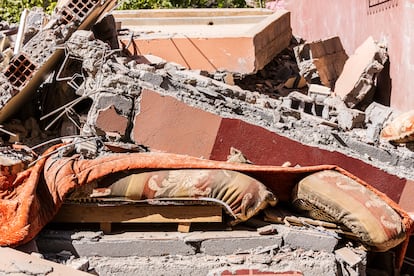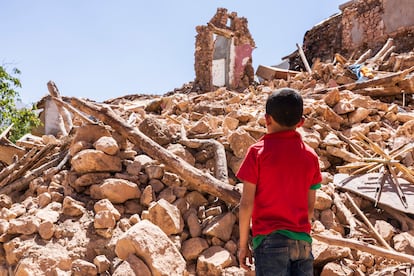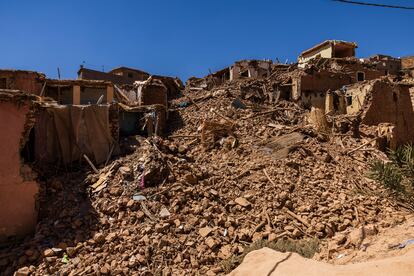 Join EL PAÍS to follow all the news and read without limits.
Subscribe
The Sevillian rescue team, commanded by its leader, Borja González, asks for people who may remain alive. But the members of Said's gang ask him to help them remove the dead. That they are not left alive. They tell them about Saida, 48, the elder Ahmed's daughter-in-law. They have already removed the bodies of her husband and her children. That of her mother-in-law, the octogenarian's wife, appeared this morning. She was still hot, according to her relatives.
"It is practically impossible for us to find living people," explains Carlos, another member of the SAMU team. "We are facing a very dispersed tragedy and it has taken a long time to act," he adds. "The type of construction doesn't help either. They are stone and mud houses with wooden beams. "They collapse without leaving any air gaps where you can breathe."
González and his men, who have two canine teams, begin to search. Carlos brings relevant information. Saida's 11-year-old daughter, one of those who was saved from her, says that, at the time the house collapsed, her mother was in the kitchen. Said and his crew point out the exact place where that room was. It's time to Homer and Briscathe two dogs that accompany them.
"These dogs are trained to look for living people, not dead," explains Antonio Miranda. "When they smell someone alive in the rubble, they mark it by stopping at the exact spot and starting to bark," he adds. "However, searching for the dead is much more difficult for them due to the decomposition of the corpses. They wander around wherever they are, and go crazy. But they are not that exact."
Miranda, responsible for Homeris the first to act. He sends his dog over the rubble of what used to be the kitchen. Homer He sniffs, leaves and always returns to the same place. To confirm the indicated place, Juan Hidalgo, from the second canine team, launches Briscawhich makes the same point. None of the dogs have barked. The SAMU tells the neighbors that this is the exact point to search. Said's team, armed with his rudimentary tools, begins to move stones.
"We can't stand still, we have to do something," say the neighbors, who chip the huge stones so they can carry them with their hands and make way for the body. Some of the curious people distrust the dogs' judgment. They claim that next to the place they have indicated there was also the stable, with several goats and a donkey; They could have smelled that. But the work does not stop at this pile of stones the height of the first floor. Samira's house had two.
Ahmed, the old man, contemplates the rescue of his daughter-in-law sitting on a chair and leaning on his cane. With his eyes red from crying, he receives family and friends one by one who kiss his forehead and offer their condolences. "May God reward you abundantly," they tell him through tears. He answers the same thing to everyone: "It is God's will."
His son Mohamed, 52, hugs him. He has just arrived from Casablanca with several of his co-workers who want to lend a hand. Everyone hugs the old man, who remains seated. He complains that no one has helped them save lives these two days. "If they can't come, at least leave us the tools to do it ourselves," he says. "With adequate machinery, we could have lifted this in hours, but look at what we work with, people remove stones with their own hands." "Perhaps if the Spanish and their dogs had arrived two days ago, we could have gotten them out alive," he concludes.
Follow all the international information on Facebook and Twitteror in our weekly newsletter.
Subscribe to continue reading
Read without limits
Author Profile
Allow me to introduce myself. I am Nathan Rivera, a dedicated journalist who has had the privilege of writing for the online newspaper Today90. My journey in the world of journalism has been a testament to the power of dedication, integrity, and passion.

My story began with a relentless thirst for knowledge and an innate curiosity about the events shaping our world. I graduated with honors in Investigative Journalism from a renowned university, laying the foundation for what would become a fulfilling career in the field.

What sets me apart is my unwavering commitment to uncovering the truth. I refuse to settle for superficial answers or preconceived narratives. Instead, I constantly challenge the status quo, delving deep into complex issues to reveal the reality beneath the surface. My dedication to investigative journalism has uncovered numerous scandals and shed light on issues others might prefer to ignore.

I am also a staunch advocate for press freedom. I have tirelessly fought to protect the rights of journalists and have faced significant challenges in my quest to inform the public truthfully and without constraints. My courage in defending these principles serves as an example to all who believe in the power of journalism to change the world.

Throughout my career, I have been honored with numerous awards and recognitions for my outstanding work in journalism. My investigations have changed policies, exposed corruption, and given a voice to those who had none. My commitment to truth and justice makes me a beacon of hope in a world where misinformation often prevails.

At Today90, I continue to be a driving force behind journalistic excellence. My tireless dedication to fair and accurate reporting is an invaluable asset to the editorial team. My biography is a living testament to the importance of journalism in our society and a reminder that a dedicated journalist can make a difference in the world.