"It wasn't 900 people who died, it was 900 families. "I am half dead": the pain of Latin America for the victims of Hamas | International
Rodolfo Skariszewski, 56, got into the car last Saturday and left for the city in southern Israel where his daughter lives. She had called him scared about the bombings. On the way, a group of Hamas militiamen intercepted him and shot him and other drivers traveling on that road. It was one of Rodolfo's sons who recognized his body hours later. Ricardo Skariszewski, Rodolfo's older brother, 60, recounted by phone this Tuesday the anguish that the family is experiencing: "They say that 900 people died and it is not true: 900 families died. "I'm half dead." Early this Wednesday, Israel raised the death toll to 1,200.
Ricardo, 60 years old, is one of the thousands of Latin Americans who have some relationship with Israel and who these days suffer the most from the consequences of Hamas violence. In his case, like his brother, he was born in Córdoba, Argentina, and moved to the country more than three decades ago. Rodolfo, the younger of the two, settled in an agricultural settlement (kibbutz) on the border with Gaza, where he worked as a computer scientist. Every time the bombings started, Ricardo called him so that he and his family could take refuge in his house, in the center of the country. But it almost never happened because "people from the south are very used to it," he laments. He, however, believes that the recent Hamas attacks, the deadliest that Israel remembers on its territory, "broke all boundaries."
"What did you think was going to happen next? They [los milicianos de Hamás] They knew perfectly well that Israel was going to attack with all its forces," says Ricardo, who has not yet been able to recover his brother's body. The death toll reaches 1,200 in Israel, while in Gaza there are at least 830 deaths. At least seven of the victims are Argentine, according to the Government of the South American country, where the largest Jewish community in the region resides; The authorities have stated that on Thursday they will begin the evacuation of more than 700 nationals who have requested to leave Israel, among them students, tourists or workers. "The one that is coming now was not known in history," says Ricardo.
Israel intensified its offensive against Gaza on Tuesday and Hamas responded with an attack in the south of the country. The daughter of Deborah Michanie, a 47-year-old Argentine who was born into a Zionist family and lives in Israel, was assigned to a military base in that area on Sunday. The young woman, who is 18 years old and is training as a soldier, received a WhatsApp message in the early morning: she had to pack her suitcase and travel to the south for an indefinite period of time. "The first day she found out about two school friends who had died. Today there are three. In addition, another companion was kidnapped and rescued by the army, although his parents are still missing," says Michanie.
Join EL PAÍS to follow all the news and read without limits.
Subscribe
On Saturday, when the alarms sounded about the attacks, the entire family took refuge in a safe room in the house built for that purpose. From there, they found out what was happening outside. Now, they have accumulated enough to survive 72 hours without leaving that space if necessary. She can work remotely and her children can attend classes in the same way, although they are suspended, she says, and in the background you can hear a television that remains on all day. Everything is "uncertainty", she affirms: "I am worried about my daughter. I am worried about my children who are here. I worry about my mother, who is almost 80 years old. "I'm worried about the missiles." But she won't leave. "This is my place and I am going to defend it," she says.
From Mexico to the Strip
Berel Borowsky is clear that he is not going to return to Mexico. At 47 years old, with two nationalities, Mexican and Israeli, he would be willing to fight for any of his homelands, but now he would do so for the one that is being attacked by Hamas. "I don't have military experience, but if they give me a gun and tell me, 'you have to do it because there are no other people,' I do it for the country of my children," he explains from his home in Ashdod (221,591 inhabitants), the fifth largest city in Israel, located just 20 kilometers from the Gaza Strip.
Mexico City was the place that received his grandparents when they fled from the Russian Revolution and where he studied Political Science. "Mexico is a country that I love, that I miss," he explains, going on to point out that he left it because of insecurity. Two assaults at gunpoint and three robberies at his home forced him to leave the country. One of the times the thieves entered his home he was in a synagogue in the Mexican capital during Yom Kippur, the Jewish Day of Atonement.
Now, violence has caught up with him in Israel. This Monday, a missile fell a block from his house. One of many he has heard fall like thunder since Saturday, when the Hamas attack began. The first thing he did that day was call his ex-wife to take her children, ages 13 and 9, to the north of the country. On Monday afternoon, when the situation was "calmer," the children left Ashdod.
Leaving home is practically impossible. "Purchasing can only be done online and I have to go pick up the products, but the two supermarkets near my house have the website blocked and close at six." It is the time at which you finish your work (remotely, from home) at a financial company. At night, when he goes to sleep, his soundtrack is the anti-aircraft alarms that sound throughout Israel these days, and which force him to go to the anti-aircraft missile shelter to take shelter.
"We are in a bunker"
Brazilian-Israeli Ranani Glazer, 24, believed he had found a safe hiding place when he recorded and broadcast his last video message: "In the middle of the ravewe have entered a bunker, a war has started in Israel. At least now we are in a bunker, safe. We are going to wait for this to calm down," he explains in Portuguese while he smokes. He says that they had to run for kilometers until they found shelter. Glazer, who described himself as an artist made in Brazil and living in Israel, he is the first Brazilian-Israeli whose death is confirmed in the war that Hamas unleashed at dawn on Saturday. The young man was with hundreds of people at the electronic music festival that was held a few kilometers from the Gaza Strip. He fled with his girlfriend and a friend, who survived. The details of his ordeal and the circumstances of his murder are unknown.
After missing for two days, an Israeli soldier knocked on the door of his father's house on Monday to inform him that his son's body had been located, according to a relative told the Brazilian press.
Glazer's Instagram account shows him as a great fan of electronic music parties who is seen happy dancing or with his friends on the beach and who did his military service in Israel. Two other Brazilian-Israeli women who were at the party, one 24 years old and the other 41 years old, are still missing.
The creator of the Universo Paralello electronic music festival, which is celebrated in several countries, is a Brazilian named Juarez Petrillo who was in the Israeli edition, celebrating in a field next to a kibbutz, very close to the Gaza Strip. Petrillo, known as DJ Swarup and father of DJ Alok, one of the most famous artists in Brazil, was going to play when the first rockets were heard flying across the sky from Gaza towards Israel. It had just dawned, the party with hundreds of people and several stages was in full swing. Petrillo ran out with other people while he recorded some images that he later spread on Instagram. "This is from Gaza, they shoot from Gaza," his companion explains in English to which he responds: "My God!"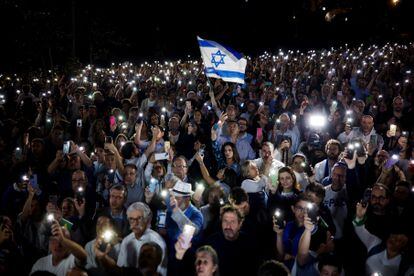 Some survivors of the massacre have said that they knew of the risk that the shells from Gaza would make their night bitter. Surely they were confident that they would be intercepted. Nobody imagined an attack of that magnitude carried out by the Palestinian Islamists of Hamas. 260 people were murdered in the rave.
It was the first edition of Universo Paralello in Israel and coincided with the end of the Jewish holidays of Sukkot. Created by Petrillo in the 2000s in Goias, in central Brazil, over time the festival spread with editions in other Brazilian cities and later abroad.
"Communication with Chile was cut off"
The chancellor of the Government of the President of Chile Gabriel Boric, Alberto van Klaveren, confirmed on Monday night that the Chilean Loren Garcovich was "kidnapped by terrorists in the conflict zone." And he added: "We will not relent in supporting the search for her and her return." Loren Garcovich, 47, has resided in Israel since 1984, when her family left Chile. The kibbutz where she lives with her Spanish husband, Iván Illarramendi, was bombed on October 7 and since that day her father, Danny Garcovich, has no information about her whereabouts. "We don't know where she is or the state she is in. What we know is that they are not injured and that, like many people from the same kibbutz, they are in the Gaza Strip," Garcovich, who lives 100 meters from her daughter, told Chilean National Television.
The Chilean woman's father said that at six in the morning a massive bombing began and that "at that point, a huge number of terrorists entered and took over the place." "My daughter was in contact with me from inside the shelter, but at a certain moment the communication was cut off, because they were able to knock down the cell phone antennas and the power supply. This shows us that it is a fully planned and very well thought out action."
Foreign Minister van Klaveren contacted Danny Garcovich on Monday and on Tuesday afternoon said that the Chilean Government was in contact with the Government of Spain because Loren Garcovich is married to a Spanish citizen and that therefore both countries are evaluating carrying out "an action joint." The father has said that as long as his daughter and son-in-law "are kidnapped," they have "the hope of being able to recover them," as he told Chile's Channel 13.
Follow all the international information on Facebook and xor in our weekly newsletter.
Author Profile
Allow me to introduce myself. I am Nathan Rivera, a dedicated journalist who has had the privilege of writing for the online newspaper Today90. My journey in the world of journalism has been a testament to the power of dedication, integrity, and passion.

My story began with a relentless thirst for knowledge and an innate curiosity about the events shaping our world. I graduated with honors in Investigative Journalism from a renowned university, laying the foundation for what would become a fulfilling career in the field.

What sets me apart is my unwavering commitment to uncovering the truth. I refuse to settle for superficial answers or preconceived narratives. Instead, I constantly challenge the status quo, delving deep into complex issues to reveal the reality beneath the surface. My dedication to investigative journalism has uncovered numerous scandals and shed light on issues others might prefer to ignore.

I am also a staunch advocate for press freedom. I have tirelessly fought to protect the rights of journalists and have faced significant challenges in my quest to inform the public truthfully and without constraints. My courage in defending these principles serves as an example to all who believe in the power of journalism to change the world.

Throughout my career, I have been honored with numerous awards and recognitions for my outstanding work in journalism. My investigations have changed policies, exposed corruption, and given a voice to those who had none. My commitment to truth and justice makes me a beacon of hope in a world where misinformation often prevails.

At Today90, I continue to be a driving force behind journalistic excellence. My tireless dedication to fair and accurate reporting is an invaluable asset to the editorial team. My biography is a living testament to the importance of journalism in our society and a reminder that a dedicated journalist can make a difference in the world.