"I gave 26 years of my life to PDVSA and look how they treat us": the oil company's retirees, on hunger strike for their pensions | International
There is a line of three men, two in wheelchairs, connected to an IV. They are in a corner under the shadow of the Central University of Venezuela. Others are dressed, with suitcases of pillows, lying on mats. They cross old age and the ninth day of their hunger strike, surrounded by groups of young students also lying on the ground, who laugh, talk and look indifferent to what is happening a few meters away from them. Young people surely kill free time between classes; the older men are retirees from PDVSA, Venezuela's main company that has devoured the money they saved for years for their retirement. "This is the maintenance area," Daniel Bucko still jokes with a needle in his arm through which he hydrates himself to keep hypoglycemia and blood pressure at bay after days without eating.
A group of retirees from the oil company has been on hunger strike since September 26. They mobilized from different regions to Caracas, as a measure of pressure after years of protests and complaints due to the lack of agreements with the authorities on the payment of money from the state pension fund, created with the contribution of the workers and the company to ensure income in retirement years. This is the second attempt. In early September they also held a similar protest at the company headquarters and came out with a date for a meeting in which they were told that they did not have the money to pay them. They resumed the strike from a safer location for fear of being forcibly evicted from the entrance to the company's headquarters.
Days and days go by and this weekend still no authority has come to listen to them. The company, however, has sent the doctors who assist them during the strike, "because it is not convenient for them to die," says Joel Lenoy, 62, who traveled 500 kilometers from Paraguaná to join the protest, but he had to retire a few days ago with the diagnosis of hypertension. "I gave 26 years of my life to PDVSA and look how they treat us," he complains. "I have a sister with cancer and all the money I saved could be used to help her now," he says frustrated. He worked in the industry supervising the installation of scaffolding that is regularly set up in plants to be able to climb up and manipulate valves and keys. "When the oil strike (between 2002 and 2003, one of the first points of tension between Chavismo and the opposition), we pushed everything forward and that's how they paid us."
In 2016, before the sanctions, the company stopped paying the interest generated by the pension fund and accounting for its use and the income that has come in from the usufruct of properties acquired as assets with workers' money. The retirees estimate that PDVSA owes the fund at least $2.3 billion in interest alone, since after a reform of the statutes that regulate the fund, the company claimed ownership of the assets belonging to the retirees. According to their calculations, they should receive 660 dollars a month to pay off that debt for the rest of their lives, but they are only receiving 180 dollars, which is insufficient to live in a country sick with inflation. They also demand that the bag of food that they stopped receiving four months ago be paid in its equivalent in dollars and that they restore the quality of the health services that the company provided through insurance, since they say that retired colleagues die every week. sick without having received medical attention.
This is one more debt that the oil company faces, mired in corruption, international litigation over expropriations and defaulted bonds, and lost accounts receivable among phantom intermediaries in recent years. Poor management that has led to the lowest levels of production, at a time when international sanctions against the Government of Nicolás Maduro have complicated the marketing of Venezuelan crude oil.
Join EL PAÍS to follow all the news and read without limits.
Subscribe
The situation of the 37,000 oil retirees is precarious, but that of other sectors is no better. In general, the public administration maintains the worst salaries in Venezuela and has led many institutions to prostration. Salaries are not enough to go to work every day. The minimum wage has not been increased for more than a year and is equivalent to less than 3 dollars a month. This is what most pensioners perceive. Labor demands are one of the reasons why Venezuelans protest the most and union leaders are imprisoned for leading these demonstrations. In Venezuela there are no social security guarantees. Last week the International Labor Organization expected to meet with the Government on the fourth day of the so-called Social Dialogue that is being promoted to reconcile the gigantic labor conflict that exists in the country, but the sessions were suspended.
The wound of unemployment
Daniel Bucko spent 31 years dedicated to naval maintenance in the oil industry; half of his life. He tuned the equipment used by barges and ships to transport crude oil. He is from Cabimas, on the shore of Lake Maracaibo, in the west of the country, near where more than 100 years ago the first jet of tar emerged that made Venezuela an oil country. He joined PDVSA at the age of 24 after many interviews and tests. "PDVSA was prosperous," he recalls. Throughout his time in service, part of his salary was allocated to the pension fund that was created in 1992 to ensure a dignified old age for workers. What he should perceive now is not what belongs to him. He cannot afford to support a house in which he lives with two of his daughters and four grandchildren, in which the air conditioners on which Zulians depend to be able to sleep at almost 40 degrees of temperature have been damaged.
The retired oil worker also carries the wound of the 2002 strike, which has also been a ditch in the country's recent history. He was one of those who stayed working and was accused of being a traitor by his colleagues who decided to comply with the measure promoted by the opposition leaders that Hugo Chávez had at that time. "I told them that we had to work, that that peo political had nothing to do with us," he recalls with rage. "I lost compadres and comadres because of that problem. "They took away my speech." Despite the support he gave to the company's operations at that critical moment in which the Government finally managed to politically control the state-owned company, today they have taken away a large part of what he had saved for his retirement.
During that break, the Government fired 18,000 workers for joining the strike and the time of the "paratroopers" began, as Bucko calls them. "After the strike, Chávez gave the green light for Raimundo and everyone, from CD sellers to horse auctioneers, to enter, with the right to work but who were not qualified. They were the hand-picked bosses, paratroopers above us who were thrown into the trash. They gave me a boy who was a computer technician as my supervisor and I was already a foreman in naval maintenance. That made me want to cry," he says now, from this hunger strike.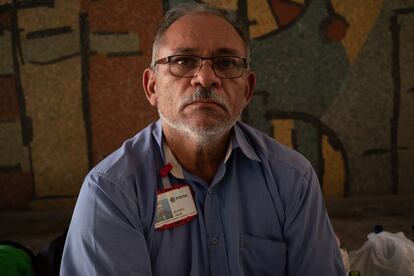 Juan Pablo Chacón was a heavy equipment operator at PDVSA. He remembers hauling trucks of asphalt from the center of the country to the plains. He also put out fires in crude oil tanks. "We are old people who have a few years left to live and they owe us a bit of money. "It's like they want us to die so they can keep what they deducted from us weekly," says the 66-year-old man, who walks with a cane and, like Bucko, also raises grandchildren of children who have emigrated in search of opportunities in the face of the prolonged Venezuelan crisis.
On September 26, eight retirees began the strike and three have already left, beaten by the days without food. "We owe you a lot," Pedro Tellechea told a representation of retirees in January of this year, when he had just been appointed president of PDVSA by Nicolás Maduro. "Last year at an event they called us heroes for having recovered the company after the oil strike. Those of us who built the industry then are the ones who are retiring today and are treated like garbage," claims Julio Blanco, who until recently worked as a tugboat captain.
In Venezuela, hunger strikes are extreme protest measures but are frequently repeated due to the lack of response from the Government. "We have done everything possible, talked, sent letters, protested, we have closed the streets and we have achieved nothing, that is why we are in this," says Blanco with his old worker's card hanging around his neck. He hopes that Tellechea keeps his word or at least sends a high-level commission with which they can negotiate the payment of what they are owed.
Follow all the international information on Facebook and xor in our weekly newsletter.
Author Profile
Allow me to introduce myself. I am Nathan Rivera, a dedicated journalist who has had the privilege of writing for the online newspaper Today90. My journey in the world of journalism has been a testament to the power of dedication, integrity, and passion.

My story began with a relentless thirst for knowledge and an innate curiosity about the events shaping our world. I graduated with honors in Investigative Journalism from a renowned university, laying the foundation for what would become a fulfilling career in the field.

What sets me apart is my unwavering commitment to uncovering the truth. I refuse to settle for superficial answers or preconceived narratives. Instead, I constantly challenge the status quo, delving deep into complex issues to reveal the reality beneath the surface. My dedication to investigative journalism has uncovered numerous scandals and shed light on issues others might prefer to ignore.

I am also a staunch advocate for press freedom. I have tirelessly fought to protect the rights of journalists and have faced significant challenges in my quest to inform the public truthfully and without constraints. My courage in defending these principles serves as an example to all who believe in the power of journalism to change the world.

Throughout my career, I have been honored with numerous awards and recognitions for my outstanding work in journalism. My investigations have changed policies, exposed corruption, and given a voice to those who had none. My commitment to truth and justice makes me a beacon of hope in a world where misinformation often prevails.

At Today90, I continue to be a driving force behind journalistic excellence. My tireless dedication to fair and accurate reporting is an invaluable asset to the editorial team. My biography is a living testament to the importance of journalism in our society and a reminder that a dedicated journalist can make a difference in the world.