De las rutas del narco al atentado: cinco claves del asesinato de Fernando Villavicencio en Ecuador | Internacional
El asesinato a tiros del candidato presidencial Fernando Villavicencio la tarde de este miércoles en Quito sumió a Ecuador en un estado de consternación y máxima alerta. La proximidad de las elecciones que el domingo 20 de agosto deciden la sucesión de Guillermo Lasso y una profunda crisis de seguridad que las autoridades no han logrado contener agravan las circunstancias del ataque, que se produjo después de que el aspirante denunciara amenazas de un grupo de narcotraficantes. El mandatario apuntó directamente al "crimen organizado" y convocó a su gabinete de seguridad. Estas son las claves de una tarde aciaga para la historia de Ecuador.
El atentado
Fernando Villavicencio, de 59 años y periodista de profesión, acababa de participar en un acto de campaña de su candidatura, Movimiento Construye, en el colegio Anderson de la capital ecuatoriana. A las 18.20, salió del edificio y se dirigió a su vehículo rodeado de escoltas. El sicario descerrajó alrededor de 40 tiros contra el candidato. Algunas balas le alcanzaron y este falleció poco después. También resultaron heridos varios acompañantes. El supuesto autor murió tras un enfrentamiento con los agentes de seguridad, indicó la Fiscalía.
La campaña electoral
Lo sucedido impacta de lleno en una campaña electoral ya de por sí atípica. El presidente saliente, Guillermo Lasso, disolvió la Asamblea hace tres meses y adelantó la convocatoria de elecciones para evitar una posible destitución. La candidatura de Villavicencio, que prometía mano dura contra el crimen y tolerancia cero contra la corrupción, ocupaba el cuarto o el quinto lugar en las encuestas, mientras que la favorita es Luisa González, la aspirante impulsada por el expresidente Rafael Correa. La votación, de hecho, abre la puerta al regreso al poder de la izquierda.
Únete a EL PAÍS para seguir toda la actualidad y leer sin límites.
Suscríbete
La crisis de seguridad
Ecuador sufre la peor crisis de seguridad de su historia reciente. El fenómeno se agravó durante la pandemia de covid-19 y se debe principalmente a la disputa de las rutas del narcotráfico entre carteles mexicanos. Durante la campaña electoral han sido asesinados el alcalde de Manta, un puerto clave, y un candidato a la Asamblea. En las últimas semanas se han producido motines y ataques con explosivos. Los muertos se cuentan por decenas y aunque la violencia acorrala especialmente la costa y el área metropolitana de Guayaquil, también ha llegado a Quito.
Las amenazas
Villavicencio había denunciado amenazas de un grupo vinculado al Cartel de Sinaloa. Concretamente, había recibido mensajes intimidatorios de alias Fito, un criminal de una banda conocida como Los Choneros. "Si yo sigo mencionando el nombre de Fito y mencionando a los Choneros me van a quebrar", había advertido. Al mismo tiempo, les dejó claro que no estaba dispuesto a ceder: "Aquí estoy yo dando la cara, no les tengo miedo". Los Choneros es un banda de narcos nacida en los noventa ahora al servicio de Sinaloa. A su vez, la organización criminal está enfrentada a los grupos de Los Lobos, Tiguerones y Chone Killers, que trabajan para el Cartel Jalisco Nueva Generación.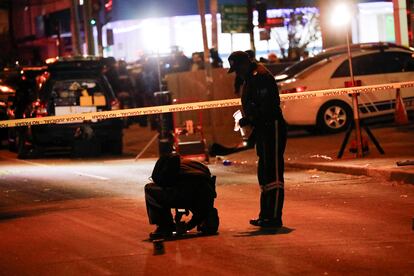 La incertidumbre
El asesinato de Villavicencio abre ahora un escenario de incertidumbre con vistas a la celebración de las elecciones. Algunos candidatos rivales anunciaron la suspensión de la campaña electoral. El presidente Lasso convocó a las principales autoridades del país para afrontar la crisis y prometió que actuará "con todo el peso de la ley" contra el crimen organizado. De momento, la violencia ha parado el país.
Sigue toda la información internacional en Facebook y Twitter, o en nuestra newsletter semanal.
Suscríbete para seguir leyendo
Lee sin límites
Author Profile
Allow me to introduce myself. I am Nathan Rivera, a dedicated journalist who has had the privilege of writing for the online newspaper Today90. My journey in the world of journalism has been a testament to the power of dedication, integrity, and passion.

My story began with a relentless thirst for knowledge and an innate curiosity about the events shaping our world. I graduated with honors in Investigative Journalism from a renowned university, laying the foundation for what would become a fulfilling career in the field.

What sets me apart is my unwavering commitment to uncovering the truth. I refuse to settle for superficial answers or preconceived narratives. Instead, I constantly challenge the status quo, delving deep into complex issues to reveal the reality beneath the surface. My dedication to investigative journalism has uncovered numerous scandals and shed light on issues others might prefer to ignore.

I am also a staunch advocate for press freedom. I have tirelessly fought to protect the rights of journalists and have faced significant challenges in my quest to inform the public truthfully and without constraints. My courage in defending these principles serves as an example to all who believe in the power of journalism to change the world.

Throughout my career, I have been honored with numerous awards and recognitions for my outstanding work in journalism. My investigations have changed policies, exposed corruption, and given a voice to those who had none. My commitment to truth and justice makes me a beacon of hope in a world where misinformation often prevails.

At Today90, I continue to be a driving force behind journalistic excellence. My tireless dedication to fair and accurate reporting is an invaluable asset to the editorial team. My biography is a living testament to the importance of journalism in our society and a reminder that a dedicated journalist can make a difference in the world.