Brazil, the unexpected last hope of Afghan refugees | International
Between Kabul and São Paulo there are no less than 13,700 kilometers, two continents and an ocean. Logic does not invite us to think that Brazil would become the favorite host country for Afghans fleeing the Taliban regime, but the landscape of Terminal 2 of the São Paulo international airport is quite eloquent: between improvised mattresses and tents Dozens of Afghans live there who have been arriving in Brazil by drops for months. Some have been stranded here for months. They wait on the airport floor until they find a permanent place to settle, or until they embark on a journey to even more distant destinations. They come to Brazil because the developed countries closed their doors to them a long time ago.
Zulmai Noori is 28 years old and arrived in São Paulo at the beginning of September. She got a place in a hostel, but even so, almost every day she goes to the airport to see if she can help out her compatriots. She almost always acts as an interpreter, she is one of the few who speaks English. "When the Taliban took over Afghanistan, all the countries closed their doors to us, right now only Brazil gives us a visa," he comments as he greets some acquaintances. He smiles and already a few words in Portuguese escape him.
Initially, Western countries bailed out Afghans working with them in embassies, but in general, those with no ties to those governments, foreign companies or NATO had a much harder time. In September 2021, the Brazilian government, following its diplomatic tradition of being a welcoming land, approved granting a humanitarian visa to all citizens of Afghanistan. Since there is no Brazilian embassy in Kabul, most travel to Iran or Pakistan to process it.
Noori lived six months in Tehran, the time it usually takes for the visa to come out after the interview at the embassy. With the help of a brother-in-law who lives in Europe, she got $1,200 for a plane ticket, and suddenly she landed in Brazil without really knowing what to do. She has no regrets. "Universities and schools closed. Women can no longer work outside the home. For the Taliban it is normal, they do what they want. They just want us to go to the mosque to study the holy scriptures, the rest doesn't matter." Noori, like the majority of Afghans who arrive in Brazil, belongs to the country's upper class. Few can afford such an expensive trip. He worked as a secretary in the Ministry of Martyrs and Handicapped, which distributed aid to the poorest. Because of his position in the previous administration, his life was in danger. "When the Taliban entered they saw us as enemies," he recalls.
Join EL PAÍS to follow all the news and read without limits.
subscribe
Although Noori ventured out alone, most arrive with their entire family. From a window overlooking the airstrip where he set foot in Brazil for the first time, Frogh Noori, 31, explains that he has come with his father, his mother, three sisters, a brother, his wife and two four-year-old children. and eight months. He left his job at the family logistics company behind and arrived in São Paulo with a life packed into a few suitcases. Brazil was not in his plans, but a friend of his father told him that the embassy in Tehran was handing out visas. "I didn't know anything about Brazil, but that friend, who lives in Germany, told us that it was a good country. That's why we decided to come here for now. We didn't work in embassies or NGOs, so we couldn't ask for asylum in another country", he comments. He now handles the improvised camp at the airport with ease, and assumes that since his family is large and they don't want to be separated, it will be difficult to find a place for everyone in a shelter. He has to arm himself with patience.
Since Brazil approved the humanitarian visa in September 2021, 6,300 have been issued, according to the most recent data from the Ministry of Justice. That does not mean that all of them have ended up in Brazil. According to the Federal Police, they entered the country with their humanitarian visa 2,800. Many are still in a neighboring country to Afghanistan organizing and saving to be able to travel. Others arrived in Brazil but immediately headed for another country. Many do not request refugee status because it would prevent them from leaving Brazil, and with a humanitarian visa it is enough to reside and work legally. The exact number of Afghans residing in Brazil at this time is difficult to determine. Despite a certain lack of control and the lack of a more agile reception structure, from UNHCR (the UN agency for refugees) they see the glass half full. "This government measure has saved many lives. The country that really has a policy of granting visas for these people to get out of this condition of persecution is Brazil. There are some similar initiatives in Canada and Australia, but what they say is that with Brazil the process is easier," William Laureno da Rosa, UNHCR's senior protection assistant in Brazil, explains by phone.
Virtually all of them arrive at the Guarulhos International Airport, in São Paulo, because it is the one with a direct connection to Doha, from where most of them fly. The camp is divided into zones (families and women with children on one side, single men on the other). In a dead-end corridor, donations accumulate and food distribution is organized, and on the walls the posters with notices coexist with drawings by the little ones. To have some privacy and shelter from the artificial light that does not let up, there are small cabins made of blankets and sheets. A side of a Bank of Brazil office became the favorite corner to pray facing Mecca. The owner of a hotel near the airport charters a van every day so they can shower and wash up comfortably. The hostels in São Paulo are either full or offer places that do not convince them, especially because they do not want to divide families. That has been changing little by little, according to the UNHCR representative Da Rosa. In recent months, the local authorities have opened 300 places, already adapted to their needs, but apparently, they are not enough.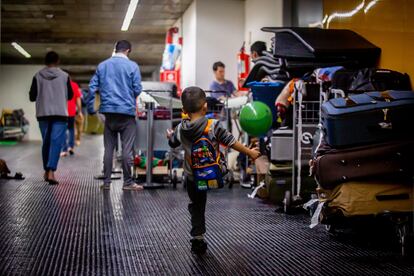 For Swany Zenobini, who has been working as a volunteer at the airport practically from the beginning, beyond citizen solidarity, there was a lack of a more effective response to the wave of Afghans, especially since it could be foreseen, from the moment the embassies began to issue visas. "The richest state in Brazil collapsed with 20 Afghans arriving a day. It is inconceivable. The impression it gives is that the Bolsonaro government gave the visa and nothing else, it didn't care about the rest. Everything began to get complicated in August of this year, they had a year to prepare ", she criticizes.
Until now, Brazil did not have a colony of Afghans, which is an extra challenge for the reception. When the Syrians arrived, São Paulo's powerful Syrian-Lebanese diaspora acted as a buffer. Now, it is ordinary Brazilians, like Zenobini, who have organized themselves. Around 140 volunteers now make up the 'Afghan Front Collective'. They take turns every day so that there is always someone at the airport handing out food, acting as a bridge with the police or alerting new arrivals to the dangers of human trafficking that those who decide to give up on Brazil and look to the north may face. There are not a few who undertake dangerous routes towards the US. First they travel to the border state of Acre, next to Bolivia, and from there they begin a very long and very dangerous journey through all of Latin America. Others choose to travel to French Guiana, where they hope to make the leap to Europe.
Follow all the international information on Facebook Y Twitteror in our weekly newsletter.
Subscribe to continue reading
Read without limits
Author Profile
Allow me to introduce myself. I am Nathan Rivera, a dedicated journalist who has had the privilege of writing for the online newspaper Today90. My journey in the world of journalism has been a testament to the power of dedication, integrity, and passion.

My story began with a relentless thirst for knowledge and an innate curiosity about the events shaping our world. I graduated with honors in Investigative Journalism from a renowned university, laying the foundation for what would become a fulfilling career in the field.

What sets me apart is my unwavering commitment to uncovering the truth. I refuse to settle for superficial answers or preconceived narratives. Instead, I constantly challenge the status quo, delving deep into complex issues to reveal the reality beneath the surface. My dedication to investigative journalism has uncovered numerous scandals and shed light on issues others might prefer to ignore.

I am also a staunch advocate for press freedom. I have tirelessly fought to protect the rights of journalists and have faced significant challenges in my quest to inform the public truthfully and without constraints. My courage in defending these principles serves as an example to all who believe in the power of journalism to change the world.

Throughout my career, I have been honored with numerous awards and recognitions for my outstanding work in journalism. My investigations have changed policies, exposed corruption, and given a voice to those who had none. My commitment to truth and justice makes me a beacon of hope in a world where misinformation often prevails.

At Today90, I continue to be a driving force behind journalistic excellence. My tireless dedication to fair and accurate reporting is an invaluable asset to the editorial team. My biography is a living testament to the importance of journalism in our society and a reminder that a dedicated journalist can make a difference in the world.