Berlin frets over slow 'Leopard 2 coalition' as it restores dozens of older tanks | International
The leopard coalition it is underway, but it is not moving at the pace that Berlin would like. German Chancellor Olaf Scholz reversed Western policy of sending heavy weapons to Ukraine when, two weeks ago, he announced the delivery of 14 Leopard 2 main battle tanks and the authorization for other countries to send theirs. After enduring months of pressure from kyiv and partners such as Poland and the Baltics, Germany finally relented after also getting the United States to commit to sending the equivalent of modern German main battle tanks, the Abrams. Since then, Scholz's government has been trying to assemble the two battalions (about 90 tanks) that he announced, but finds that most countries still do not firmly commit to a number of units.
If Berlin dragged its feet for months with the decision of the tanks, once the red line was crossed it has become the capital that leads the efforts. German Defense Minister Boris Pistorius has already called several meetings by videoconference with countries that have Leopard 2 and has expedited re-export permits, necessary because the tanks are German-made and can only be resold or transferred with their express authorization.
However, the hesitation of the partners when it comes to talking about the star tanks has forced them to focus on the old Leopard 1. While waiting for countries like Norway, Portugal or Spain to decide how many more modern units they can collaborate with, Germany is turning to the previous generation, manufactured between 1965 and 1985, with successive updates. So far, Berlin has authorized the export to Ukraine of 178 of these tanks, many of which have been stored for decades, which the industry has already begun to rehabilitate.
The experience of these two weeks has shown that the agreements go faster in the case of the old Leopard 1. The ministers of Germany, Denmark and the Netherlands announced on Tuesday that between the three of them they will send to Ukraine a minimum of 100 units of the A5 type . They all come from industrial stocks and have to be tuned up because they have been hibernating for a long time. A part would be ready in a few months; most already in 2024. The alliance includes the training of Ukrainian troops, "spare parts and a package of ammunition," he says the joint declaration signed by the three countries, which could be joined by Belgium, which has shown interest in participating. The initiative is open to other partners, adds the text.
shock and disgust
Join EL PAÍS to follow all the news and read without limits.
subscribe
Meanwhile, the Foreign Ministry is trying to persuade its European neighbors to decide to deliver Leopard 2 tanks, the most modern, with better armor and more firepower. According to the weekly Der Spiegel, the lack of firm commitments has made Scholz personally involved in the negotiations to the point of calling the heads of government one by one. The magazine reports that partners who had already announced their participation in the Leopard coalition have refused these days to offer a specific number, to the surprise of the German Defense Minister. The doubts of some countries, precisely those that most loudly demanded the participation of Berlin, have caused stupefaction and a certain disgust in the Foreign Ministry.
Without explicitly mentioning any country or the Leopards, the foreign minister on Wednesday criticized the "public competition" to see who sends the most weapons to Ukraine. In a speech in the Bundestag prior to the summit to be held this Thursday and Friday in Brussels, Scholz lamented that criticism between allies only manages to benefit Russian President Vladimir Putin, who can see in this type of dispute a lack of unity between the partners. The Social Democrat asked for greater "cohesion", both within the government coalition – his Green and Liberal partners also pressured him to agree to send the Leopards – and among the Western allies.
The first Leopard 2 arrives from Canada
It is striking that the first Leopard 2 has not come from any European country, but from Canada. The first tank of the four initially promised by the Government of Justin Trudeau took off on Saturday from Halifax and landed a few hours later at an undisclosed point in Poland, from where it will cross the border when there are crews trained to begin deployment in Ukraine.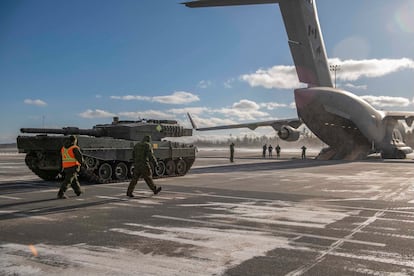 For now, the Leopard 2 commitments are not enough to form the two battalions that Germany wanted to assemble as soon as possible. Berlin has offered 14 Leopard 2 A6 main battle tanks from the Bundeswehr (German Army) stocks. His intention is for them to arrive on the ground at the end of March, Pistorius announced during his visit to kyiv on Tuesday. The minister no longer spoke of "two battalions", as Scholz did two weeks ago, but of "one or two battalions", a clear indication that expectations have been lowered. Berlin has so far provided 3.3 billion euros in military aid, not counting the Leopards.
Poland has committed another 14 Leopard 2 of the A4 model. Norway, Portugal and Spain have not yet announced how many they will contribute, although it is estimated that it will be less than 10 each. Spanish government sources assured EL PAÍS that initially the shipment from Madrid would consist of between four and six units. Finland, Denmark, the Netherlands and Sweden have yet to confirm their participation with the most advanced tanks. Two of them have been on the Leopard coalition 1 that to the Leopard coalition 2and they do this by providing funds for their purchase and tuning, and not by sending cars from their own arsenals.
Criticism of the delay in supplying Ukraine with modern Western-made tanks has not abated. In Germany, Scholz is still blamed for wasted time when intelligence reports speak of an imminent Kremlin offensive. "All the decisions that he has been making, preserving the principle of not becoming part of a war, of not acting alone, he could have made six months ago," retired Brigadier General Klaus Wittmann lamented this Wednesday in a meeting with foreign correspondents in Berlin.
German arms companies have already gotten to work to refurbish cars that, in some cases, are more than 40 years old. Germany withdrew its latest Leopard 1 models in 2010. A company in the north of the country, the Flensburger Fahrzeugbau Gesellschaft (FFG), will rehabilitate 90 units that had been in a warehouse for decades. A second group of tanks will arrive from Italy, where 88 Leopard 1s are preserved, which the Rheinmetall consortium is now going to buy back, transfer back to its plants in Germany and modernize. According to Pistorius, the first 20 or 25 tanks will arrive before the summer.
Follow all the international information on Facebook and Twitteror in our weekly newsletter.
Subscribe to continue reading
Read without limits
Author Profile
Allow me to introduce myself. I am Nathan Rivera, a dedicated journalist who has had the privilege of writing for the online newspaper Today90. My journey in the world of journalism has been a testament to the power of dedication, integrity, and passion.

My story began with a relentless thirst for knowledge and an innate curiosity about the events shaping our world. I graduated with honors in Investigative Journalism from a renowned university, laying the foundation for what would become a fulfilling career in the field.

What sets me apart is my unwavering commitment to uncovering the truth. I refuse to settle for superficial answers or preconceived narratives. Instead, I constantly challenge the status quo, delving deep into complex issues to reveal the reality beneath the surface. My dedication to investigative journalism has uncovered numerous scandals and shed light on issues others might prefer to ignore.

I am also a staunch advocate for press freedom. I have tirelessly fought to protect the rights of journalists and have faced significant challenges in my quest to inform the public truthfully and without constraints. My courage in defending these principles serves as an example to all who believe in the power of journalism to change the world.

Throughout my career, I have been honored with numerous awards and recognitions for my outstanding work in journalism. My investigations have changed policies, exposed corruption, and given a voice to those who had none. My commitment to truth and justice makes me a beacon of hope in a world where misinformation often prevails.

At Today90, I continue to be a driving force behind journalistic excellence. My tireless dedication to fair and accurate reporting is an invaluable asset to the editorial team. My biography is a living testament to the importance of journalism in our society and a reminder that a dedicated journalist can make a difference in the world.