Al Jazeera reporter killed in West Bank shooting | International
An Al Jazeera reporter, Shireen Abu Akleh, was shot dead by the Israeli army in the West Bank this morning, the Qatari news network reported. The Israeli army attributes the death to shots fired by Palestinians in a clash with Israeli soldiers, while Palestinian sources blame the soldiers.
A Palestinian spokesman has declared that Abu Akleh has been "killed" by Israeli forces while reporting on a military operation in the West Bank city of Jenin, where clashes between Palestinians and Israeli soldiers have intensified in recent weeks. Palestinian President Mahmoud Abbas has directly accused Israeli troops of the journalist's death, while the Palestinian Ministry of Health, the first to confirm the death, has reported that a second journalist, Ali Samodi, has been injured. .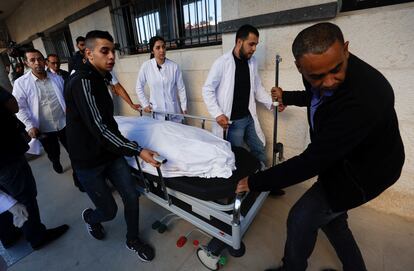 In a statement, the Israeli army said that its soldiers had fired in response to "mass fire" in Jenin and that "there is a possibility, which is being investigated, that the reporters may have been hit, possibly by Palestinian gunmen."
For its part, the Qatari news network has stated that its reporter has been murdered "in cold blood" by Israeli soldiers in what it describes as "a horrible crime that breaks international standards."
Follow all the international information in Facebook Y Twitteror in our weekly newsletter.
Join EL PAÍS to follow all the news and read without limits.
subscribe